LINE WORKS is supporting Lush employees to share difficulties of career challenges such as simultaneous child care and work with other employees in a similar situation.
Lush Japan Co., Ltd.
Oba Reiko, Inagaki Yuma, Kurami Chihiros' interview
Lush Japan Co., Ltd.

Oba Reiko (Right)

Inagaki Yuma (Left)
Lush Japan is a corporation that manufactures and sells bath products, such as soap and body cleanser, and skin care products, such as organic cosmetics. In an effort to further support, Lush has introduced LINE WORKS to employees with children. With LINE WORKS it became easier for them to share and address concerns about child care and work, thus helping in creating a supportive environment for their careers. We invited Oba and Inagaki, from Human Resources Division, to talk about the process of introducing LINE WORKS and the changes brought; and Kurami, to discuss how she feels about working using LINE WORKS.
What is your role at LUSH?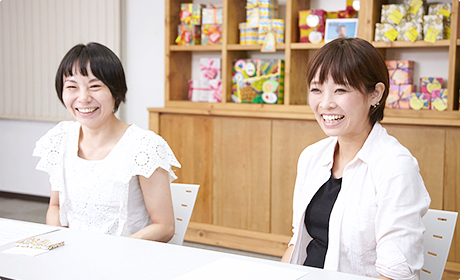 - Ms. Oba:
I work in the Human Resources Division. At the time of introducing LINE WORKS, I was in charge of personnel management of the store staff. With Ms. Inagaki, I was responsible for introducing LINE WORKS to our company.

- Ms. Inagaki:
I also work in the Human Resources Division, in charge of affairs related to the store.
Before introducing LINE WORKS, what were the concerns and what did you do to improve them?
- Ms. Oba:
Lush Japan strives to create a good working environment for every employee and support their career in various ways. LINE WORKS was a part of the effort to support those who are on maternity leave or raising kids and working at the same time. Through LINE WORKS, those who are on maternity leave have been able to communicate with the company more easily, as well as for those with children, share their daily concerns and even house chore issues with each other.

Before we introduced LINE WORKS, we utilized an SNS platform for the same support, but it became a platform through which the company delivered one-way announcements, rather than a place where employees closely and comfortably share their stories. The store staff, not having opportunities to meet other employees outside of the store, found it particularly difficult to consult on childbirth or child rearing. So eventually, we were looking for another solution to help them communicate.

- Ms. Inagaki:
Employees did share their concerns on child rearing and their thought on the SNS platform we used before. However every time someone posted something, previous contents moved downward, and it was hard to search for what kind of questions there had been before. So even when someone had a question, there was a bit of hesitation, thinking that the same question may have already been asked by someone else. The entry barrier made them restrain from posting thoughts and opinions or asking for one, so the exchange through the SNS, accordingly, did not go well.
What finally made you introduce LINE WORKS?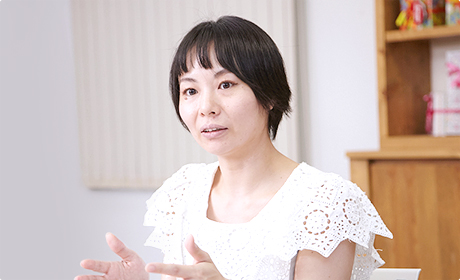 - Ms. Oba:
Before choosing LINE WORKS, we conducted a survey with our employees. We asked them which application would be the best to use, among a few different ways of communication, and their answer was LINE. We thought, since all of our employees are already using LINE, LINE group chat would be an appropriate way to make it more friendly and easy to upload their stories. However, even if you are working in the same company, you may be reluctant to share your LINE ID with other workers, whom you haven't even met before. With this concern in mind, we discovered LINE WORKS. While LINE WORKS is very similar to LINE, you don't need to disclose your personal ID, and the company(as an administrator) can manage and control the system. These are the major reasons we decided to introduce LINE WORKS.
How is LINE WORKS actually used at LUSH and what are the effects?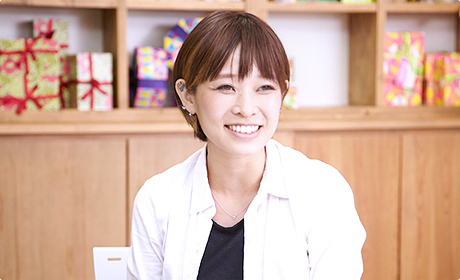 - Ms. Inagaki:
Upon introducing LINE WORKS, we did a survey to ask "With whom do you want to share child care concerns?" Result showed that child care concerns are usually shared with colleagues with children in similar ages. So we made different chatrooms for those on maternity leave, with babies younger than one year, with one-year-old to preschool-age, with elementary school age and with middle school age. In each room, they talked about: how to wean or potty-train a baby, how to get the child to sleep well, how to take them back home from daycare, how to deal with a cold and so on. They all had different concerns depending on the age of their children. Categorizing employees into proper-sized communities really facilitated their communication.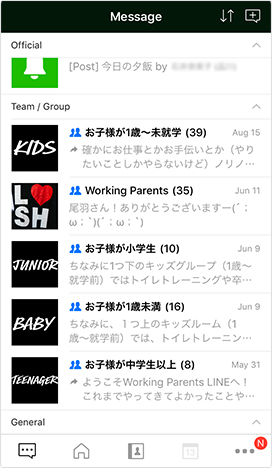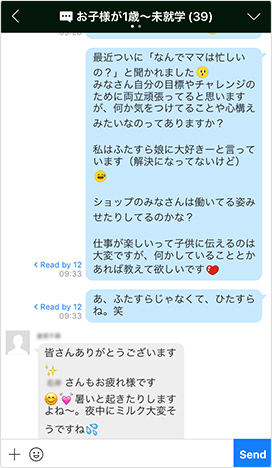 - Ms. Oba:
I think the barrier to participation has been removed, thus making it easier for our employees to share their personal stories. They now have more opportunity to talk with whom they didn't have a chance to talk before, and as a result better understand how different divisions work. If you are a store staff, for example, you now have chance to learn how employees work in the kitchen (factory), with which you had no contact before. You also share how hard you are working, wherever you are, with everyone on LINE WORKS. This results in a strong sense of unity among employees, boosting loyalty to the company.
Let us know what has changed after introducing LINE WORKS.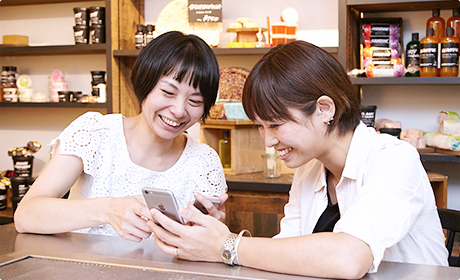 - Ms. Inagaki:
There haven't been many cases in which an employee returned to a managerial position after maternity leave. However, even if there is only one staff member with a child in the store you are working in, there might be many employees who work in similar conditions, when you think about all the stores throughout the country. If we link those employees via LINE WORKS, they will be motivated to once again undertake a managerial position. We see that LINE WORKS is becoming, not only a comfortable communication tool for discussing concerns, but also a channel to deliver motivation and encouragement when employees meet with extra challenge in their career.
- Ms. Oba:
I also experienced childbirth and child rearing, which is the reason other employees ask me for advice. Simply listening to a person from the Human Resources Division talk about the employee's career after coming back to work is not enough to relieve their anxiety. Thankfully, LINE WORKS is creating an environment to casually think about their career for themselves. More employees are giving feedback to us that its introduction has helped motivate them in paving their career.

Now, let's hear from Kurami, who is currently using LINE WORKS.
On what occasions do you use LINE WORKS, and what are the effects?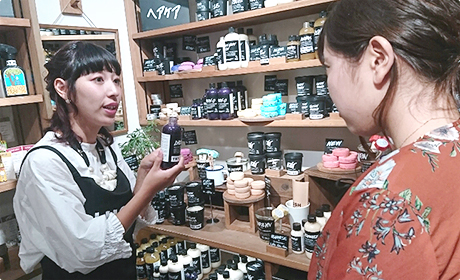 - Ms. Kurami:
I am responsible for reception, sales, and support of the team at the store. I returned to work this February after my maternity leave. On LINE WORKS, I exchange information with the community of other employees about our children, who are from one year old to preschool-age. Our topics are mostly about how to get our child to bed or how to wean a baby. A lot of information about child rearing was helpful for me. I also advised a member who was about to return to work, when she asked about how it felt to go back to work, based on my own experience. In addition, there is a chat room called 'Today's Dinner Table,' where everyone shares photos of their dinner table, along with the recipe, which is very useful when preparing meals. I love the chat room 'Today's Dinner Table.'

I was able to ask for advice on the SNS that we used before, but there weren't communities separated by children's ages, and traffic was low, which means I wasn't able to get answers as quickly as I can now. LINE WORKS really opened up friendly communication, much like LINE, so I can get advice easily.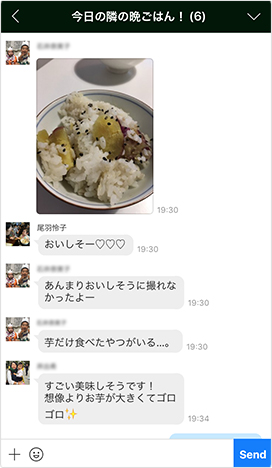 What are the differences after the introduction of LINE WORKS?
- Ms. Kurami:
For me, I don't know many working mothers or those with children of similar age as mine. LINE WORKS helped me to communicate with those who live in the same environment or have children of similar age, letting me know I am not alone. I feel far less worried while working now. I am really grateful that, unlike other companies, our company is making this effort for its employees.
※ The details, affiliations and positions specified is the information gathered at the time of reporting.