LINE is a communication application used by 200 million people throughout the world every month. LINE WORKS supports the businesses of LINE Corporation.
LINE Corporation
Katano Hideto's interview
LINE Corporation

Katano Hideto
We asked Katano Hideto of LINE Corporation about their introduction of LINE WORKS. LINE Corporation and LINE workers in every part of the world are utilizing LINE WORKS.
What kind of company is LINE Corporation?
Since its launch in June 2011, the communication application 'LINE' has grown into a global service in just four years, with over 200 million users throughout the world every month. Currently, it supports 17 languages and provides service in over 230 countries and regions. LINE employees are globally working in various fields such as technology, design, marketing, sales, PR, and partnerships, so that more users from around the world can enjoy its service. Employees sometimes are required to work around the clock because the business is worldwide. Those with various nationalities work under the same conditions, and they are mainly working on mobile devices. And this is why LINE WORKS can be very helpful in the smooth work progress of LINE Corporation.
When did you start using LINE WORKS? And why did you introduce it to your company?
LINE employees have been using the LINE WORKS service since October 2012. Now, we have in-house communication in various situations, using the tools of LINE WORKS. We have asked LINE WORKS for some new functions to be added or other functions to be improved, and LINE WORKS has accordingly improved such functions and remedied shortcomings.
To be honest, when LINE WORKS first launched its mail service, there were some defects. It was difficult to use it because Japanese sounded unnatural or the search function didn't work. Sometimes even an error message popped up. But as time passed, constant improvements were made, surprisingly successfully, and its development and verification process has been well maintained.
What are the advantages of LINE WORKS?
LINE WORKS treats security as the most significant point. Its system provides absolute security. The fact that it is optimized in the mobile environment is another of its advantages. To create a service that always anticipates user needs, it is essential to swiftly grasp the necessary tasks and make quick decisions. With LINE WORKS, you can check your work environment and schedule, communicate with co-workers, share documents, and respond to most tasks anytime and anywhere. You can communicate with your colleagues, even when you go on a business trip or work outside of the office, which allows you to expedite tasks. Besides, the multilingual translation function is also very convenient.
How do you use the collaboration tools in LINE WORKS?
As is true for every groupware, it is very advantageous for employees of the same company, or affiliated companies, to use the same tool. What is good is that they can share the same calendar on their various devices and platforms. If they were to use different communication tools, it would seem to be greatly inconvenient. The storage function, with which you can share files with others, is also very useful when you need to check the progress of a project or make simple comments.
Recently, LINE WORKS has become more attractive, as its tools have been unified across mobile devices. You don't need to switch apps to use the e-mail or calendar. Instead, the shift can be done through one touch. The messenger is another convenient communication tool. Most LINE employees use LINE for in-house communication, but LINE is basically a service based on personal accounts, so you need to change IDs before you can communicate. However, LINE WORKS allows you to contact any worker, home or abroad, even a person with whom you haven't talk to before.
What are the benefits of using LINE WORKS in business?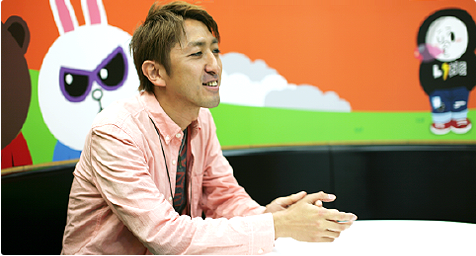 The core of our business is gradually being executed on the mobile environment. It is certain that, much like LINE's service, mobile devices are becoming central in communication. When a service failure occurs, for example, you need to send detailed information. The content that can be sent through a phone call is limited, there is a definite need to send an e-mail or a text message.
What do you expect from LINE WORKS in the future?
I think LINE WORKS offers strong, stable security and essential functions for companies. I look forward to seeing the provision of services that suggest a more innovative working style. It is already equipped with, not only the functions that LINE needs, but also those other general companies need. I hope LINE WORKS grow into a service with much more merits than other groupware has.