Ueki Tax Accountant Corp.   Interview with Mr. Nakada, Mr. Ueda, and Ms. Nakai
Ueki Tax Accountant Corp.
Employees
Ueki Tax Accountant Corp., which manages tax accounting/report services, management consulting and other consulting. In tax accountant industry, majority of communication was in written format because promoting IT services in communication system was difficult. Despite these circumstances, LINE WORKS has been adopted as first step of promoting IT services in communication system, which is a crucial task to prepare for the 'Digital Native Generation' that will be center of future economy. We interviewed Mr. Nakada, Mr. Ueda, and Ms. Nakai to listen further.
Tell us about your company and individual roles.
– Mr. Nakada :
Our company mainly handles taxation business, but we also support customer management improvement, countermeasures for Inheritance and succession. I am in charge of whole business across the company as well as client management. 
– Mr. Ueda : 
As a tax consultant, mainly focusing on taxation, I am consulting the clients with regards to countermeasure for tax and management of assets. 
– Ms. Nakai :
As a manager, I am in charge of general affairs in the company. From schedule management to general affairs, I cover wide range of office works, similar to that of secretary.
What were the issues before introducing LINE WORKS?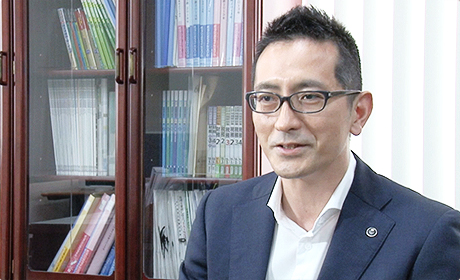 What was the decisive reason that drove you to turn to LINE WORKS?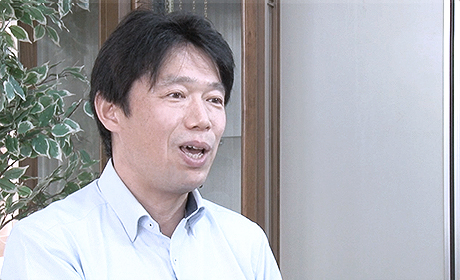 – Mr. Ueda : 
We were researching on group chatting tools with regards to communication. Specifically, we were looking out for a tool which can be used when contacting with our clients. However, there is always negatives existing when implementing a new tool for the first time. Because the employees were already using LINE, we chose LINE WORKS, which expected to receive lesser negatives. A variety of stickers as well as easy functioning features were also worth noticing. It may sound stiff and unfriendly if we only write words on the message. With stickers, however, we can deliver even small nuances through messengerConsulting Dept. Head, Udeda Kazuro.
Consulting Dept. Head, Udeda Kazuro
– Mr. Nakata : 
Under the circumstance of AI becoming widely available, we thought that our office should also promote IT systems. And, as a part of promotion, we considered introducing LINE WORKS to our office. Even if the tool is great, it is worthless if not used well enough. In this sense, we believed that LINE WORKS is the tool, which can be used by every employee, and friendly enough to be well used by employees in our office. As a result, we decided to implement it. 
– Mr. Ueda : 
We can basically work both inside and outside the office. Therefore, we chose LINE WORKS as a means of continue work flawlessly regardless of places.
How did LINE WORKS introduction go?
– Mr. Ueda : 
We first decided the time to discontinue make hand-written note on missed calls. After, we started to use both note and LINE WORKS at the same time for a while. Soon after, we focused more on utilizing LINE WORKS. After employees got used to LINE WORKS, we encouraged employees to submit vacation schedules and late report using LINE WORKS. When we started to actually use LINE WORKS, every employee in the office could be able to use it without any rejecting reactions. This implied that LINE was already permeated in our daily lives.
How exactly LINE WORKS is being used?​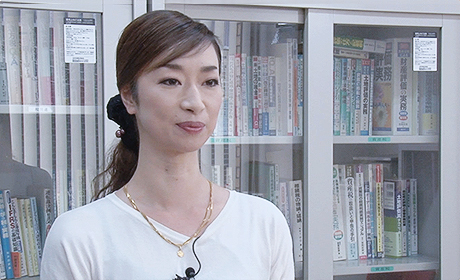 – Mr. Nakada : 
By transforming hand-written daily business log to LINE WORKS note, every manager can now be able to write and send their business log everywhere. Those who are reviewing the log can also check them whenever they have free time. We made a chatting room on a monthly basis to write memo on the calls and missed calls. By archiving the record monthly, it becomes much easier for us to check and follow the record of it.
Management Dept. Nakai Yumiko
– Ms. Nakai : 
If one of our clients calls the office, we directly inform the manager through LINE WORKS. Checking the schedules of each employee is also available through PC LINE WORKS whenever needed.
What kind of changes took place following the use of LINE WORKS?​
Mr. Nakada, who is in charge of office management and tax accountant affairs, and Ms. Nakai who is in charge of the staffs in the office, told the changes they felt from their own perspective.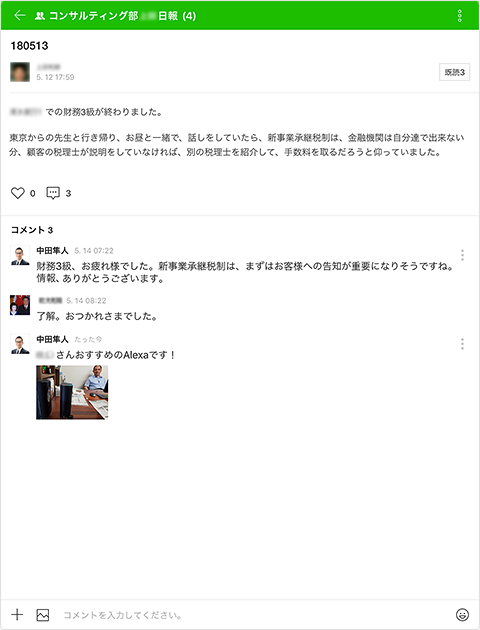 – Mr. Nakada : 
Because LINE WORKS Note feature supports comments, we can write comments on the note in real-time. Unlike hand-written business log, employees can also write comments after the comments received from the admin. Horizontal communication can be made due to this. 
– Ms. Nakai : 
LINE WORKS Read notification allows us to feel free from worrying about whether receiver actually read the message or not. We feel that every employee is firmly connected to each other since we can now see which employees working outside the office actually checked the message. We often communicate with the ones who did not have much communication previously. And I think that the employees within our office have become much intimate than before.
Enhancement of efficiency
– Mr. Nakada : 
I used to check the hand-written business log in the morning time. If the checking process has delayed due to business trip and so on, the amount of business log to be checked became massive. I often spent all my precious morning time checking all the business log. After implementing LINE WORKS, however, I can use my time effectively by checking or commenting on the business log not only in the morning but during remaining time of the day. 
Employees used to write, print and submit their business log in the office. But, because they can write their log with LINE WORKS Note feature, it shortened at least five minutes a day. When considering a number of employees, it is 20 working days, 800 minutes per month long. Furthermore, the admins, who write comment on the business log has shorten the time by 30 minutes a day. Since we have two admins, it is 1200 minutes per month, and total of 33 hours has shortened up in the office.
Change the way of working
– Ms. Nakai : 
As distance within employees got closer, we can freely either share or recommend the ways to manage the schedules. It would have been impossible without the help of LINE WORKS. Also, we would have not considered making our workflow efficient without LINE WORKS. It definitely was the great chance. 
– Mr. Nakada : 
Tax accountants do the same work on a daily basis. LINE WORKS brought changes to our daily working routine. For example, there were suggestions like inserting QR code to our business card or save the company training as a video. I am glad to find employees making various attempts to change their working process, such as saving meeting log as video instead of writing them.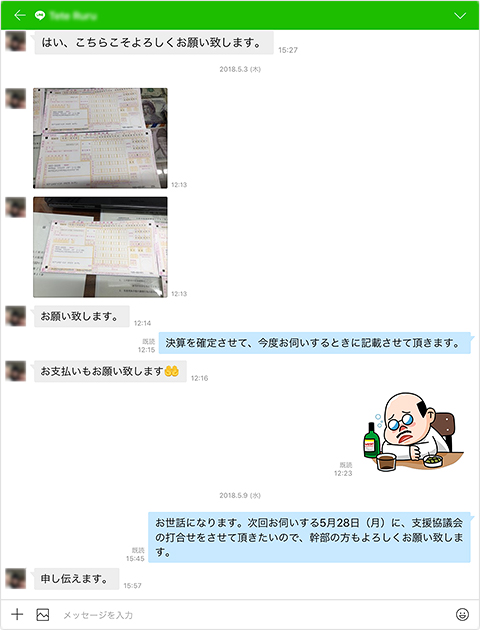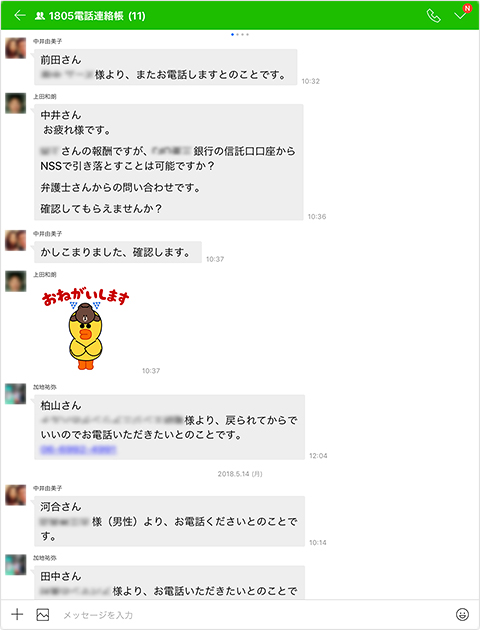 What do you want to do with the LINE WORKS in the future?​
– Mr. Ueda : 
I am planning to record videos at the study group and upload the recorded video and resources through LINE WORKS. There are also voices from the employees mentioning that we should video record the meetings, instead of writing the meeting log. We expect to cut down personnel expenses as well as the time consumed. 
– Mr. Nakada : 
Over the next decade or so, digital native generation will be at the heart of economy. At that point, small to medium-sized companies should mandatorily know about IT. As tax consultants, one of the closest and intimate partners of the clients, it is our mission to support the client with IT. Permeation gets difficult if the tool is difficult to use. LINE WORKS, however, is the perfect tool for small to medium-sized companies to make first step toward IT, providing LINE-like features that built on strengths of LINE.
※ All details, affiliations, and positions specified were gathered at the time of interview.