SyiSyu is a company that owns more than 10 stores of 'Nail & Eyelash Syisyu' in Osaka, Kobe, Kyoto, and Hawaii. This time, we've heard about how LINE WORKS have been used in the field from CEO of SyiSyu, Ms. Ito, and details of introduction and benefits about LINE WORKS from Store Manager of SyiSyu Umeda branch, Ms. Ezaki.
Tell us about your company and individual roles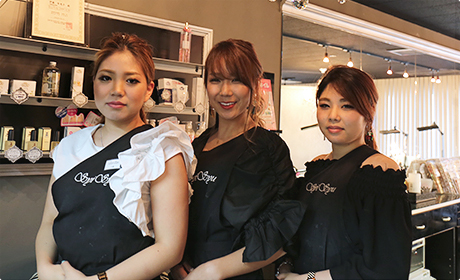 Ms. Ito:
'Nail & Eyelash Syisyu', a beauty company located in Osaka, Kobe, Kyoto, and Hawaii, has a first-class nail artists and a trained eyelash therapists. We offer great technique and design at a reasonable price.
Many customers are re-visiting our shop because the price becomes cheaper with frequent visits to the store and post-completion beauty, which lasts for long. Recently, we also operating nail school as well as nail shops.
Ms. Ezaki:
I am a store manager of SyiSyu Umeda branch and in addition to greeting customers and nail procedures, I am responsible for overall store management like sales management, customer acquisition, and employee training.
What were the issues before the introduction of LINE WORKS?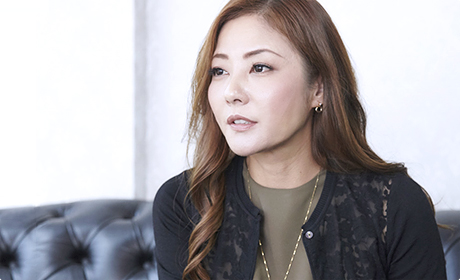 Ms. Ito:
Before introducing LINE WORKS, the internal communication methods were mainly e-mail, telephone, and Fax placed on each store. Only limited staff members use their own LINE to communicate when there was an urgent communication needed.
We were unable to accept phone calls during working away from the office or greeting customers. If an employee continues to use the phone because of in-house contact, he or she may not be able to answer the customer's reservation call.
So, we mainly contact via e-mail in order to avoid disruption of the sales. However, in the case of e-mail, the time for employees to check with their store's public PC was limited. As a result, they would often receive a reply in three to four days. It was difficult to get urgent communication such as cautions when placing an order, defective products, and claim response, so the content that needs to be implemented the next day was not delivered properly. Moreover, We were also anxious about the fact that even though we emailed every detail, there were always some missing items founded in confirmation process.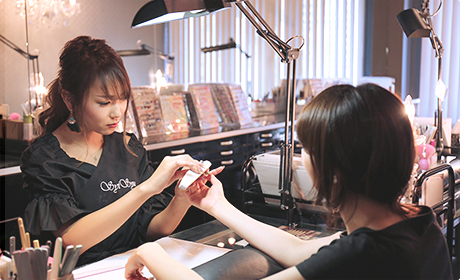 Ms. Ezaki:
I was usually notified by the store's email about staff members schedule management and new products. However, it was often not delivered properly because miscommunication happens or verbal mistakes occur during delivering messages. We have used FAX many times, but we need to copy what we received from FAX and deliver that message to every staff member or each employee takes a picture of it on their Smartphone and saves it again, which is a waste of both time and paper.
What was the decisive reason that drove you to turn to LINE WORKS?
Ms. Ito:
Our company listens to employees' voices by having private meeting with them about difficulties during regular meetings with managers and employees. But in a survey, some employee claimed that contact has been made on off-day. In order to address that complaint, I felt that I should introduce information sharing-tool that is more convenient than personal SNS but still available to all employees. I consulted with a company that had a regular transaction and that company introduced LINE WORKS as a tool to ensure that all employees are informed.
Because this is a tool that is used by store staffs that are unfamiliar with IT, we decided that LINE WORKS, the enterprise version of LINE that everyone uses normally, would be easy to use. LINE WORKS has a similar interface to LINE. For this reason, I could decide to adopt LINE WORKS with confidence.
When LINE WORKS was introduced, every store staffs registered their accounts and within a week, all employees completed log-in. Started with using chat rooms between the store managers, we gradually began to use chat rooms by store or information transmission via using the Home function.
How exactly LINE WORKS is being used?
Ms. Ito:
Contacting from headquarters to stores, stores contacting each other, or inside the store etc all internal communication in our corporation is mostly done by using LINE WORKS.
Schedule sharing and managing
We check the employee's desired schedule and upload the confirmed schedule chart to the Home to share. It is very convenient to check or make changes schedule at any time.
Nail design checking
Nails need to be replaced regularly, and trends change so that store staff makes a new commercial design every month. When technical manager sends a new nail design draft, you can check it on a chat room, and you can verify clearly because it is easy to attach photos to the LINE WORKS chatting room.
Nail design sharing
The new design, which is decided after the design check, is uploaded from the headquarters to the 'Drive' that has file storage feature and shared the link URL at Home. Until now, photos have been sent as zip files to each store via email, but there have been frequent problems such as zip files are not opened and people check only the text, not attachment. Drive is easy to share designs with the ability to view photos at once using Smartphone. I think it is very good to convert into your Smartphone size.
And when sharing on Home, we put a nail color number for that specific design in order to check right away when processing procedure.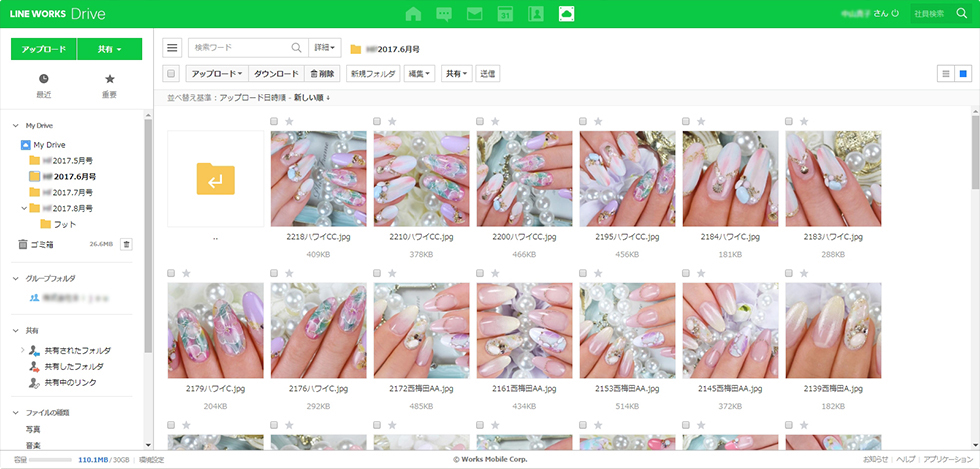 What are the effects after the introduction of LINE WORKS?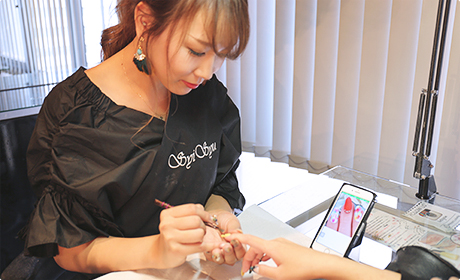 Ms. Ezaki:
If you send a chat, you can tell who read it at a glance. So even if you don't get a reply, you can assure that the message has been delivered. Information was sent to each employee's smartphone in batches, which eliminates the need to operate copy machine or shredder; it saves not only FAX paper or trashes but also employee's time burden. The schedule can be viewed on a smartphone, so you can check it right away even if you are not at the store. An employee just needs to check LINE WORKS, which is very convenient way.
Also until now, we did not contact with other store managers, but LINE WORKS' 'Store manager chat room' enables to contact easily and we can share other stores' information such as sales management and customer acquisition. For example, if weekend sales are not good enough, we listen and refer to how other store's status or method of attracting customers.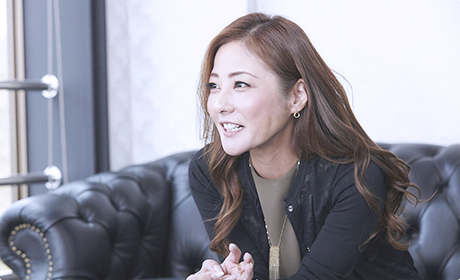 Ms. Ito:
We think the biggest effect is that field staff can notice the contact from headquarters right away. So far, we have failed to check email or missed confirmation. However, now we can directly deliver a message to all of the employees without having middle steps like through a store manager or a mail. Especially, if we showed pictures of a nail in a meeting before, people only who was in a meeting could know it. However, now that we can send files directly, employees who aren't in a meeting can also see that picture and I think that is the biggest advance.
We can reach each employee one by one, so every contact has been made and no one has been left out. Information that delivered only to the manager level has started to pass on to entry-level workers and this gradually increases employee's responsibility. We think this is because workers keep in mind that 'I am also a valuable employee' and participate in work as a team. Because our industry is sensitive to trends, we think using the latest tools like LINE WORKS will also motivate our employees.
※ All details, affiliations, and positions specified were gathered at the time of interview.