Sateraito Office Inc. is one of WORKS MOBILE's partners. We interviewed Hiroaki Oka, who is a director of Cloud business, about how the company employs LINE WORKS as a business communication tool. Mr. Hiroaki highlighted that communication speed and its accuracy have increased so that the overall speed of troubleshooting in workflow has improved.
Please explain briefly about your company
Satellite Office Inc. operates our customers' business services through remote support. Like LINE WORKS, the company is specialized in cloud computing such as reselling groupware or developing additional software, and it also provides a business support for SaaS service.
What is the key motivation for introducing LINE WORKS and what are the benefits?
LINE WORKS has been used since November 2015, after the beta version was available. We first started to use LINE WORKS for resale purposes to verify its qualifications, however, we realized that this is the tool we've been looking for after experiencing the same user interface (UI) with LINE. The user-friendly interface is also a crucial factor in resale.
The tool was adopted almost immediately after we went through a trial stage from the management, which had been done before introducing it to an internal communication. We decided that accessibility would be the best tool to ensure better work efficiency. The point that I would like to suggest was it is not only easily approachable but also manageable.
What were the decisive factors in introducing LINE WORKS and the advantages of using LINE WORKS?
It is definitely because of user-friendly interface! After the introduction, users can effortlessly start using it without any special training sessions or instructions.
When a company adopts groupware, it usually requires various procedures such as workshops or seminars to demonstrate how to utilize it. Unfortunately, there are some cases where those efforts become useless when the users fail to get used to it or the tool is not attractive enough to be settled down as an alternative communication tool. In case of LINE WORKS, there is no need for training and it is actively utilized after the introduction. The same interface with LINE, which is familiar to our employees, is the biggest advantage.
Since LINE WORKS is for enterprise, managing group information and monitoring chat logs are possible. It is also a good point that LINE WORKS is as safe as a system manager and a legal team decided to employ the tool with confidence. You can use a convenient tool with confidence. This is the strength of LINE WORKS.
Please elaborate the advantages of using LINE WORKS
As the speed and accuracy of internal communication have improved, so did the overall workflow. Since Satellite Office is an IT company that deals with cloud-related groupware, I believe we were better at utilizing communication tools than other companies did. However, it turns out that a significant number of our employees failed to utilize chat tools so that they heavily relied on mail and phone calls.
We used e-mail for document-based communication and phone call for emergency. However, sometimes both were used as it is not easy to tell the difference between urgent situations and priority tasks just with documents. After LINE WORKS was introduced, it became relatively easy to express emergency or to carry out emotions no matter where we are. Many employees find LINE WORKS usually more convenient than e-mail, even when they are not urgent, because they became able to check people read their message, send attached files, and do advanced search. I think these are also features of LINE WORKS. Being 'fast and secure' has a great impact on our company, where fast and accurate information sharing is integral.
What would you expect from LINE WORKS in the future?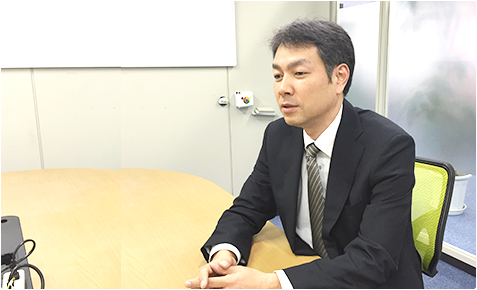 I want LINE WORKS to settle down as a standard groupware in business tool industry. It may be inevitable to face some difficulties in having a conversation between different companies because of their own security issues. Nevertheless, I hope LINE WORKS would be a solid foundation and infrastructure in business settings to facilitate communications among various companies while maintaining a thorough management functions and a high security level.
※ All details, affiliations, and positions specified were gathered at the time of interview.