We interviewed employees from Ryukyu Office Service, in which operates home page planning and production service at Okinawa, about LINE WORKS utilization. The company is currently operating LINE WORKS for interoffice collaboration, as well as internal office communication among production staff, salesperson, and employees working at other prefectures. We interviewed Fujimoto Gazyuki to listen further.
With email, it was impossible to handle volume of the communication between production staffs and sales staffs
Established in 2010 by President Fujimoto, Ryukyu Office Service has been operating business for producing home pages for enterprises. While producing the home pages, communication between office working staffs and sales employees, who take responsibility of client communication, share gigantic volume of communication. In order to handle this, it was office mission to make the communication process efficient, and eventually spend more time endeavoring to satisfy the clients better. With those previously used tools such as email, however, it was inevitable to take up a lot of time for communication, and those have the impression of 'slow' in many ways. For this reason, we decided to implement chatting tool.
Other chatting tool did not allow us to send files directly from the chatting room, and this has dropped our work efficiency
Mr. Fujimoto wanted to avoid using personal LINE or Facebook for the work in terms of security and employees' privacy burden. Instead, the office decided to implement chatting tool and start to use it for the office communication. However, they soon found out that the chatting tool did not allow them to send files directly from the chatting room. If they want to share files, they had to either use emails or upload files on the drive and send sharable link to the messenger. Frequent file sharing is naturally happening during the home page production process. By having difficulties in file sharing, it caused a great drop in efficiency.
While searching for a simple and fast collaboration tool, we found LINE WORKS and decided to integrate it immediately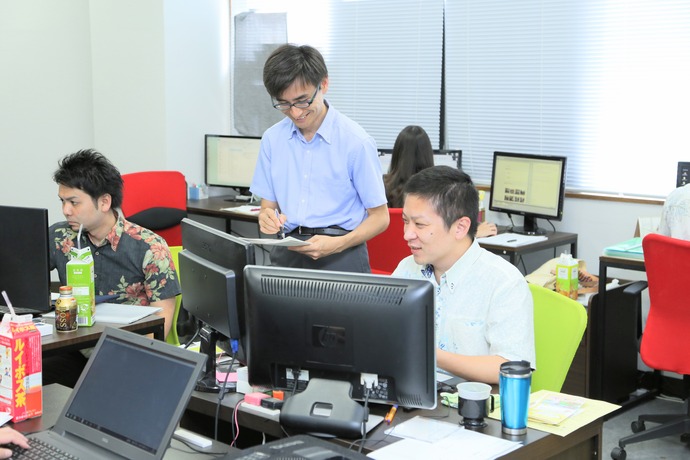 In addition to the fact that they cannot send files in the chat room, the use of messages and group conversations has begun to demand improvement from the employees. After reviewing other enterprise version of messengers, we decided to choose LINE WORKS. WE thought that it would be quick and easy to use because it has the same interface as LINE. Also, we thought that LINE WORKS will be fast and stable because it is a service provided by LINE related companies. LINE WORKS has been selected as a simple application that can be utilized immediately with the same feeling as LINE. Also, LINE WORKS can be flexibly driven by the speed of the younger employees.
Not only because the interface language is in Japanese, but also when training the newly entered employees about LINE WORKS, it is sufficient enough just to mention 'it is same as LINE', and needless to put extra effort giving training about the tool are both great advantages we found about LINE WORKS. LINE sticker also plays a key role for integration, since employees mention that it is 'essential' to have for the office communication.
The reason why application for PC desktop is important
What we considered important when choosing enterprise messengers is the availability of PC version app. Website designers often design and code work with the design software open on the desktop PC screen. For this reason, when using messenger with a web browser, it is difficult to know instantly when a new message arrives. Unlike this, LINE WORKS provides client application for PC and send notifications on our desktop PC. LINE WORKS prevents us from being so exhausted about checking messages on the web browser by sending notifications on newly received messages to our desktop PC, like receiving notifications on the smartphone. It has enables us to make responses to the message in a prompt manner.
We implemented LINE WORKS when communicating with the employees working in another peninsula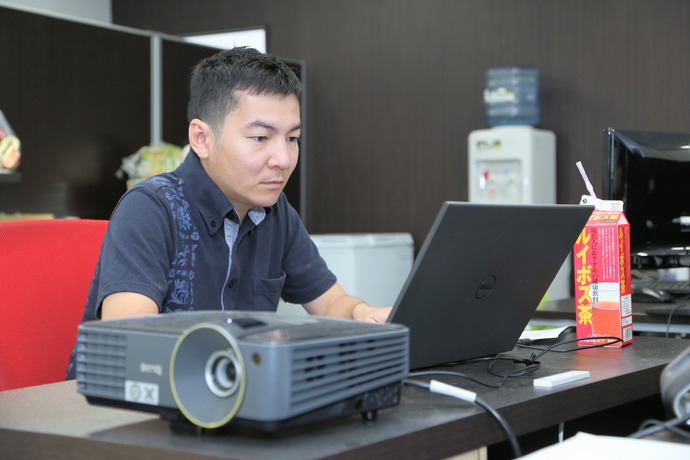 Because Ryukyu Office Service is headquartered not only in Osaka, Fukuoka, but also in Naha, the company is utilizing LINE WORKS for interoffice communication. Sales employees, who are working in different peninsula, are taking in charge of the customers residing in Kansai or Kyushu, and design website in affiliation with the employees from Naha. The employees are less likely to meet offline due to the physical distance, but still need to come up with the best result by constantly sharing the customer requests. By implementing LINE WORKS to all the employees from different headquarters, they can make contact to another easily, and continue communication fluently regardless of the distance.
Fluent communication can be made between the employees with different working style
Ryukyu Office Service could solve the existing problems by introducing LINE WORKS and communicate better than before. Those employees from production department who are actively work with the PC, and the sales employees who are often working outside obviously have different working styles and patterns, and therefore there is only limited amount of time for them to communicate. But because LINE WORKS can be utilized for both PC and smartphone, employees of the production team can send the message while working on their PC, while Sales employees can check the message during the remaining time before customer meeting. After LINE WORKS introduction, we could cover all different types of communication, from ordinary to business contact, with the proper way for each employee. We feel the positive changes that LINE WORKS brought us, such as us being able to hold more effective and active communication.
※ All details, affiliations, and positions specified were gathered at the time of interview.