RIZAP GROUP, Inc. has established over sixty related companies in Japan and overseas to offer services and products that help people live healthier and brighter lives. The key to create the ideal body is the private gym, RIZAP. The RIZAP GROUP actively uses LINE WORKS in its work for better communication among employees as well as to motivate employees. We heard from Director Okada and Supervisor Arai about detailed cases and changes that the company experienced following the introduction of LINE WORKS.
Tell us about your business and roles you play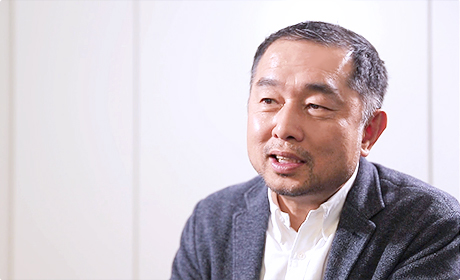 Mr. Okada :
Our group deals with various businesses related to self-realization and self-investment. However, we focus on operating a private gym called RIZAP, created mainly for healthy body make-up. RIZAP is an exclusive customer service that helps customers design a concrete plan and reach out to their own dreams. As director of the Business Infra. Headquarters, I am in charge of utilizing technology or IT for business efficiency enhancement, and construct EC or distribution systems in order to increase the synergy of the group.
Mr. Arai :
As a supervisor of RIZAP, I am in charge of improving customer satisfaction within the region, distributing the success stories of each store nationwide, and universalizing successful business performance across the country. Because I am in charge of store environment as well as employee counselling, I am overwhelmingly working more on-site than those from headquarters.
What were the problems you experienced before adopting LINE WORKS into your business?
– Mr. Okada :
I first joined the company in 2016. I was impressed from the very beginning with the fact that communication among employees were happening in a fairly active manner, without holding any barriers within departments. It was natural to see employees freely participating in table discussion. Also, there were a number of joint-events among departments. In spite of such pro-communicative environment, however, there was no tool for communication.
The primary means of communication were phone calls and emails. Using emails however, made it difficult for us to contact one another in real-time and response to phone calls during meetings was almost impossible. This motivated us to think about introducing a new tool that helps sustain the current company atmosphere, which employees comfortably communicate with one another.
What was the decisive reason that drove you to turn to LINE WORKS?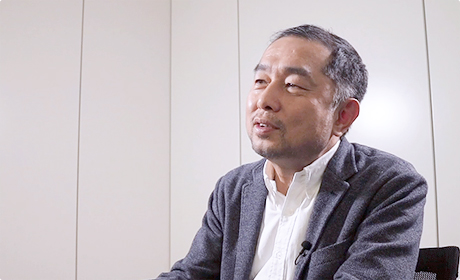 Mr. Okada :
In order to create an environment which employees could easily gather up, we urgently held inspection on cloud system, and re-inspection on networks. This led us to introduce LINE WORKS to the company. Our first and foremost goal was to create a system that everyone is willing to use, without being stressed out. Since LINE WORKS has an interface that is similar to LINE, a communication tool generally used by the employees, we determined that we could expect a smooth transition in the perspective of operations expansion and stabilization.
We had a notion that, once the tool is introduced, it is important that all the employees actually use the tool. At the same time, however, we thought that it is old-fashioned if we have to train each employee with its usage. We figured out that LINE WORKS, a similar tool to popular LINE Messenger, would be a perfect choice for us.
LINE WORKS, alike to use LINE on personal basis, does not require ID for communication. Therefore, new employees can contact everyone in the company from their very first day of work. The security function is also well designed in terms of preventing information leakage by allowing the company to manage conversations hold among employees. There is no need to explain detailed regulations to employees, and since it is used voluntarily, we felt that LINE WORKS was well-harmonized with open-minded organization culture.
How exactly is LINE WORKS being used?
Mr. Okada :
There are currently 1,600 employee IDs actively used at the headquarters. It has been less than a year ever since the service was introduced, and everyone began to use LINE WORKS from the very first day, without having any difficulties. We also found employees use it in a variety of ways. We feel that LINE WORKS is also compatible with the employees' active communication culture. Ever since LINE WORKS was introduced, we supplied smartphones with LINE WORKS installed and received positive feedbacks from the employees. We continue to use email. However, when there are times we need immediate feedback or deliver business matters to entire employees, we use LINE WORKS for the most of the times. Responses and confirmations are also quickly received.
When employees are working outside the office, they can conveniently contact the person who in charge in a prompt manner. Moreover, they can also use call function when they want to speak someone directly. Since messages can be checked right away, it is now unnecessary to check missed calls and emails. The read function also helps us to track whether the message is properly delivered or not.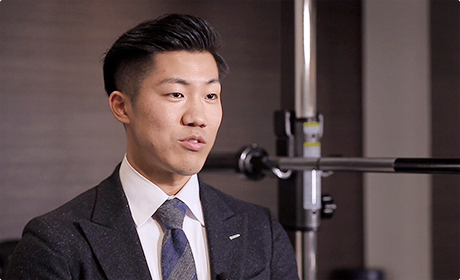 Mr. Arai :
I use LINE WORKS when contacting with managers of each store. I believe that sharing information is important in terms of reinforcing the motivation of all employees. We are encouraging all employees to share their success stories or the issues that need to be improved. We are also encouraging store managers to actively share their opinions with another. We used to share information using bulletin board and emails in the past. However, as LINE WORKS allowed all the employees to deliver their message effectively, sharing is now extremely efficiently and conveniently held.
LINE WORKS is not just used as a means of contact, but it is also used as a tool which enables all the employees to communicate better and even helps motivate one another. We can share tips, including increasing the consumer purchase rate, decorating the front desk, and operating know-hows of other stores, that are helpful in terms of increasing consumer satisfaction.
What kind of changes took place following the use of LINE WORKS?
Mr. Okada :
The thing that changed the most is speed. At our company, each employee is in charge of multiple duties at once. For this reason, when employees have idea, they need to quickly share the information and come with a conclusion. And LINE WORKS is incredibly suitable for keeping up with this speed of operation. Neither writing long paragraphs in your emails nor spending additional time forwarding them to other people is necessary. LINE WORKS even allows us to reply with stickers.
I hope that all the employees to take each part in projects and produce result. With LINE WORKS Groups feature, which made for each project, allows employees to freely communicate with one another, while reducing the possibilities of omitting information that must be delivered. The group chat function increased the opportunities for employees to share not only the work-related information, but also other information with one another, it has produced positive results in a sense that employees have gained interest in work itself.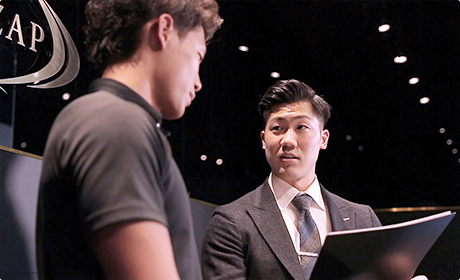 Mr. Arai :
With the introduction of LINE WORKS, relationship between employees have improved, which led us to establish a system that enable us to share more information with one another. We must always be on the edge of innovation for our consumers. And the key to this innovative movement can be made through information sharing and flexible communication. Since all the employees carry such mindset, this resulted in natural and equal relationships among the employees in the company. Without doubt, LINE WORKS played a powerful role help making smooth transition to create such atmosphere.
Mr. Okada :
The most important part when introducing a new groupware is to actually use it and increase its efficiency. A communication tool, especially, cannot be used efficiently if there is one person who is not using it. However, LINE WORKS was smooth sailing all the way. Employees began to use LINE WORKS from the very first day of its introduction, and we found it joyful as we are being able to use it all together.
The most important thing to consider is that communication become much more important as company grows. Even small issues can hinder productivity of entire company. I feel that preventing such hindrance is something that the business system must aim for in the future.
※ All details, affiliations, and positions specified were gathered at the time of interview.