Taking 'Freshness' as their key strength, Misugiya Corp. have been operating more than 20 stores called "Misugiya" in Hyogo, Osaka, and Tokyo. They integrated LINE WORKS to operate and manage the stores. We interviewed Otomo, who was in charge of the LINE WORKS introduction, about the implementation process and its following effects. We also interviewed the employees to listen further about how LINE WORKS is being operated and its effects.
What were the issues before the introduction of LINE WORKS?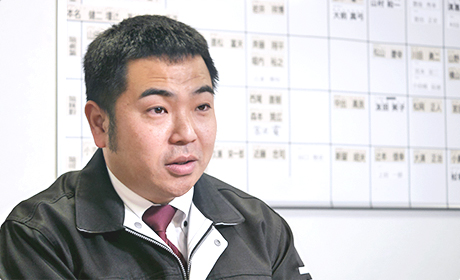 Before LINE WORKS integration, we used to hold headquarters-store and inter-store communication using emails, phone calls, and fax. Of course, we did not have such thing as groupware. Each store has 1 to 3 public PCs. Since daily sales management is important for supermarkets, we required all the store managers to send daily sales condition on each store through cellphone email. When receiving lengthy emails, it was cumbersome to read them all through, scrolling the page to the bottom. Further, when asking store manager about the sales condition of other stores, we often failed to receive the response from them.
Because email is one-way communication tool, there was a lot of obstacles to counter back and we all felt that it was not effective enough.
For this reason, we started to look out for groupware and enterprise-level messengers for 2 years. We have went through several tools for their suitability, but we found that most of the tools are based on the PC version and some of the our employees could not even type down the words on the computer. With this, we were feeling that what we believed to be 'understandable to use' is not always 'understandable' to everyone. This brought us to consider further about implementing the collaboration tool if it were to require guide our employees.
What was the decisive reason that drove you to turn to LINE WORKS?
We thought about introducing LINE because we have been acknowledging that employees have already been using LINE as the office communication tool, and also, a lot of the employees felt burdensome utilizing the computers on their work. However, because LINE is a personal account, it was difficult to specify who the person is only with the account information. Also, we could not force the resigned employee to leave the chatting room. Furthermore, there were voice from the employees mentioning that they do not want to hear from other employees when they are off the work. This was understandable complaint since all the shift workers have different time schedules.
While struggling so, one of our IT partners introduced LINE WORKS to us. As LINE-like tool, there was no need to give extra education on its usage. Other than this, every account is manageable with the admin account, as well as device-friendly application enables us to send confidential information through devices. With those reasons above, we have decided to immediately introduce LINE WORKS.
How was your LINE WORKS introduction?
We first started with free trial version of LINE WORKS. We registered every employee at once and encouraged them to use the tool at the site. The registration process was not difficult at all because LINE WORKS allows batch registration using CSV file. We both used LINE and LINE WORKS together for about 2 weeks. At the end of this trial period, we came up with the conclusion that LINE WORKS is that we were looking for, and suits our needs. Finally, when the branch manager said 'Let's try with LINE WORKS', we quitted LINE use and moved on to LINE WORKS.
How exactly LINE WORKS is being used? Also, what are the effects after the introduction of LINE WORKS?
We are currently using LINE WORKS for communication between headquarters and stores including butcher's', fish, and fruit stores, and inter-store communication, and contact with customers and shipping companies.
We can contact the person in charge of purchasing goods directly for any damage or accident.
Because it is our job to deal with the fresh goods, it is inevitable to have the goods either destroyed or damaged during shipping. In such case, we can deal with the problem in real-time just by taking photos of the goods right at the moment of import, and send it to the delivery manager. It has much easier for the employees to report such incidents much more conveniently with LINE WORKS.
Healthy rivalry has increased by sharing daily sales report PDF file through LINE WORKS.
The lengthy sales report, which had to be emailed by the phone once a day, was tabulated by store and shared in PDFs in the chat room. Until now, we didn't even know who read the message because it was one-sided communication for the most of time. We think the biggest improvement is that we can now use 'Read notification' to find out who read it. In addition, it has become intuitive and easy to read, making it easier to compare the report to other stores. As a result, there seems to be a healthy rivalry created between the stores, leading to a sense of improving the sales of their stores.
With LINE connection features, we are sharing photos of the goods with our clients prior to the actual delivery.
With the functions connected to LINE, we are communicating with our clients as well. Although the product information to be received is basically written in the pre-emailed specification sheet, it is still difficult to determine only by the text alone because there are a lot of information that cannot easily be recognized.
After using LINE connection feature, however, we could directly receive photos of the goods the day before the actual delivery date. For example, information that had not been known until actually receive the goods like the color or the size of the apples, can now be known intuitively with LINE and LINE WORKS. Overall buying process has changed very efficiently.
Since we are actually feeling the changes made with LINE WORKS use, we are planning to broaden up the utilization field, such as use it to contact with the deliverymen.
What are the changes at the sites after integrating LINE WORKS?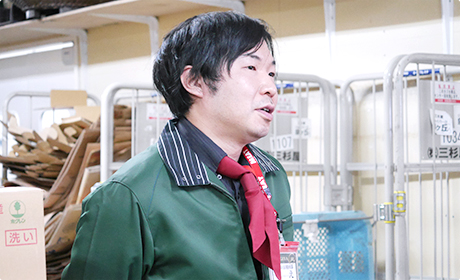 Mr. Tsue :
We are utilizing LINE WORKS the most when contacting with the butcher department. LINE WORKS helps us to easily find out the information of other stores. For example, when holding an event, we decorate our store. And, as a part of our search for the helpful idea, we take the photos of other stores as reference.
In case of the meat product, the method of processing, selling, and price adjustment are not uniform.
So, for the most of time, the price is highly subject to the person who decides its price. In this case, it is often studied just by looking how other stores are dealing with the price. Also, we receive the daily sales report of other stores as an urgent message. In this case, we either promise to work harder, or ask the high-scored sales store manager for the tips.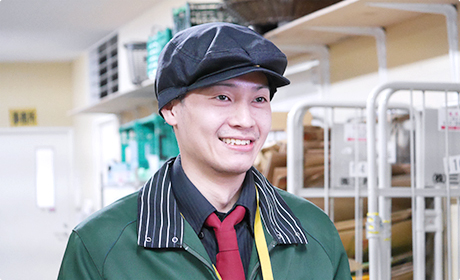 Mr. Miyata :
Before LINE WORKS integration, it was mandatory for us to call back, even if we sent the email, whether to find out the communication partner have read the email or not. That means, we had to make contacts twice on one specific work. LINE WORKS, however, helps us a lot with the 'Read notification' by enabling us to check all the employees read the message.
For department taking in charge of side dishes, they have become much accurately managed the products with LINE WORKS by sharing photos of the product, related materials, and description stickers and more, when new product is introduced.
How do you want to utilize LINE WORKS in the future?
Mr. Otomo :
We are striving to convey information in more helpful and readable manner, because we are not achieving 100% on the read confirmation in messages such as sales reports and reminders from the headquarters. Also, our current information sharing is often initiated from the headquarters sending out the information to the stores or the employees. With LINE WORKS, we would like to structure a collaboration flow which we gladly receive suggestions from each store and share the idea together with the stores. Not only with the work-related communication, we would like to utilize LINE WORKS, as a tool directly related to our revenue, in sales perspective.
※ All details, affiliations, and positions specified were gathered at the time of interview.