Kyowa Technologies Co., Ltd. provides quality solutions to extensive business fields such as social infra, rail, network systems based on their communication technology and ICT, which they have been fostering for over 60 years since establishment. As a first step to improve their working style, they introduced LINE WORKS to the entire employees at the company. We interviewed President Mr. Sogou, Ms. Matsuda, Ms. Honke, and Mr. Shimazu about the goal of introduction and its following effects.
※ ICT: Abbreviation for Information and Communications Technology
Tell us about your company and individual roles
Mr. Sogou :
Our company constructs telecommunication facilities, sells electronic equipment and devices, and provide services related. This year is our sixty-ninth anniversary.
Ms. Matsuda :
I am member of department in which takes care of IT systems. We work as a company help desk, meaning that we build PC or servers and suggest IT tools, while managing the introduction and answering questions about LINE WORKS.
What were the tasks to be concerned and how they were reviewed before LINE WORKS introduction?
Mr. Sogou :
More than half of our 570 employees work at the field due to business like sales and construction. Up until today, phone call was the only method for communication between office and field employees. Due to this, we have received a number of claims from our client about delayed contacts from the staffs and related business person who are working at the field. Also, when field employees visit clients or accounts often wasted their time as they could not browse the data at the field. Finding out no other available option, we communicated with the field employees through SMS with company-provided smartphones. With this way, however, we were not able to manage all the business related communication. That is, 'shadow IT' became the issue for us.
Furthermore, staffs, who worked overnight at the construction site, had to come back to office in order to write working log was the point that we wanted to change. If there were options to report their working log at the site, they could have been just leave the site. But, there was no other option but to come back to office for log writing since there was no other option.
For this reason, we launched a project for 'revolutionizing the work style', which includes improvement of working process. As a first step of the project, we considered the introduction of communication tool. The reason why we chose communication tool as our first step was that we could immediately start using the tool, unlike reviewing the work process which takes a great amount of time. What was great about the tool was that we could also use it even after the process reformation. Before considering its introduction, we thought that that we should just first use and think after. With this, we decided to introduce the communication tool.
What were the issues before the introduction of LINE WORKS?
Mr. Sogou :
Focusing on features, we have went through several tools for enterprise communication. However, there were tools which we found difficult to use than we expected. We were also worried about not actually using the tool after the introduction since there were several tools we ended up not using them anymore due to its uncomfortableness. For this reason, we chose 'easy to use' as the most important option to consider when choosing the tool, and as a result, we ended up introducing LINE WORKS to our company. We also found that LINE WORKS is not just focusing one the messenger, but also having the high possibility of unifying all the systems together in one application. And it was attractive enough to choose LINE WORKS.
Moreover, since our company have acquired ISMS (Information Security Management System), we have to keep the monitoring log. To do so, 'archive' feature was mandatory, and for this reason, we chose premium version.
How was LINE WORKS introduction?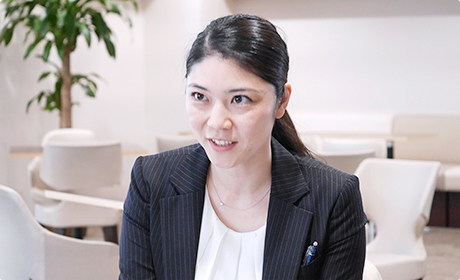 Ms. Matsuda :
In order to verify LINE WORKS before the introduction, we collected targeted users from each department and division and promoted them to use the tool. During the trial period, we also encouraged the users to use as many features as possible to collect the actual usage experience. Ultimately, we could hear opinion from the users that Read notification at the chatting room and File sharing on the Drive have reinforced the overall working process more efficient than before. After the verification, we decided to introduce the tool earnestly.
Mr. Sogou :
In fact, we have also received negative opinion from our employees, such as communication can still be well handled through smartphone SMS. In spite of this, our company could not accept smartphone SMS because SMS cannot be managed by company and becomes shadow IT. To solve this, the company rather to chose promote positives about LINE WORKS features such as Read notification and File sharing through Drive, than telling negatives about shadow IT. We encouraged the employees to voluntarily use LINE WORKS.
What are the effects after the introduction of LINE WORKS? Also, how exactly LINE WORKS is being used?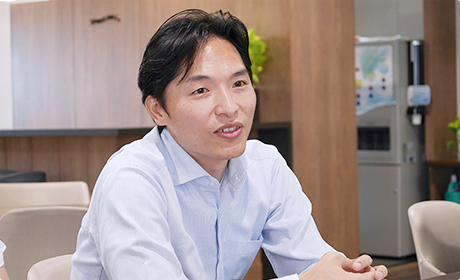 Mr. Shimazu :
I am mainly responsible for construction management and maintenance of social infra projects. Also, I am in charge of integration of the company security systems. Thanks to LINE WORKS, constructing the training center project, which is one of the company projects that I am leading, is easily progressed. We used to struggle with getting the responses from the persons concerned since the project participants are chosen from different departments who manage different works. Since we have all different working situations, it was awkward sometimes to even make phone calls to them.
After the introduction of LINE WORKS, we are now communicating through messenger, instead of using phone call or email. We are utilizing when sharing product information with other employees, making decisions, notifying the opening of the conference. We now rarely have problem when sharing information, and this increased the response rate. This ultimately, led us to process the project with speed.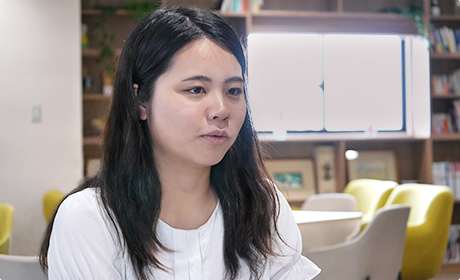 Ms. Honke :
I am responsible for sales, suggesting IT solutions. Back in the old days, whenever I work at the field and urgently need either schedule or an estimate, I had to come back to office to check it. But today, I can immediately ask my assistant at the office to send such document through LINE WORKS. Response that 'I had to bring it to the office to solve' can be processed on the spot. This has quickened the responsiveness of our clients and ultimately enabled to play the sales business which clients satisfy.
We are also utilizing LINE WORKS on company communication. For example, our employee ID card was renewed few days ago and had to turn paper to check roman characters of each employee. It took a while to check all of the employees' since there were employees who were working at the field or the employees on consulting at the moment. For this reason, we took a photo of this paper and send it to the team members. With this tactic, what other team took for about a day to finish checking was only taken us about 20 minutes to complete. It is natural for people who use LINE, but there are still a few people who are not accustomed to this. In recent days, we are thinking about introducing IT tools to our customers with the purpose of reforming the work style. In order to process the reformation of the company work style, we would like to provide ideas of utilizing LINE WORKS in the perspective of the young colleagues.
How do you want to utilize LINE WORKS in the future?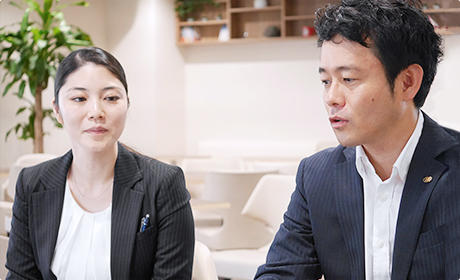 Mr. Sogou :
Our company has a lot of architects on telecommunication facility construction and also employees with craftsmanship. For this reason, our company takes some time to introduce something new. However, if we do not change ourselves by introducing new and comfortable tool like LINE WORKS, we would not be able to survive in the future. We have decided that it is important to first introduce the tool and we actually did it. As a result to this, we already found the positive changes from our working style. We are expecting LINE WORKS to be a turning point for improvement of employee consciousness.
※ All details, affiliations, and positions specified were gathered at the time of interview.