JK Holdings corporation operates a wide range of businesses in the housing-related industry with Japan Construction Materials Corporation, which has the highest sales in the housing construction materials wholesale business. By using LINE WORKS to Communication with employees, customers, and even with the prospective employees, the tool is helpful with the overall recruiting process. This time, we have heard from Mr. Yamamoto, Mr. Ishizawa, and Mr. Oshio about how they use LINE WORKS and the changes made after LINE WORKS introduction.
Tell us about your company and individual roles
Mr. Yamamoto :
Our company is a Holdings company, and our business covers from housing wholesale to manufacturing and sales. Main business is the wholesale business which mainly covered by Japan Construction Materials Corporation. However, we also have interoffice in which doing housing construction business. I am a member from Finance Accounting Department, Business administration Headquarters, but also as a member of Office Rationalization Committee, I was in charge of introducing LINE WORKS to our company this time.
What were the issues before the introduction of LINE WORKS?
Mr. Yamamoto  :
A purpose of Office Rationalization Committee is to introduce systems or tool which enables efficient working environment. We had a mission to find a communication tool that is suitable to use, since we did not have such tool. We used to use a groupware as a communication tool. However, there are limitations such as it can only be used inside the office and if the employees were to use outside the office, they had to connect VPN every time.
Moreover, not all the employees had the accounts to the groupware. Therefore, we had to use phone calls obligatorily in order to connect with other employees. Phone calls, fax, and groupware communication has been continued for decades.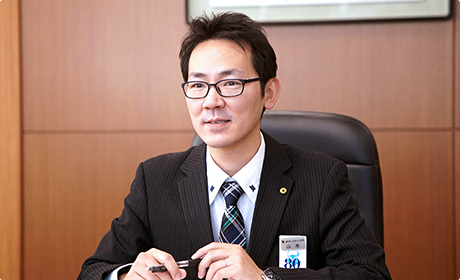 Mr. Yamamoto :
Under such circumstance, important information such as announcements on personnel as well as medical checkup cannot be delivered to the all the employees. Especially, 'Japan Construction Materials Corporation' is consisted mostly with salesperson, and therefore, the administration department considered about not being able to share various information to them. In order to make sure the information is delivered successfully to each employee, some of the branches print out the written mail and receive the paper with the employees' signatures on it. Still, it costed a lot of efforts.
Company provided cellphones were mostly 2G phone, which only provide calling feature. For this reason, we often use personal smart phones to communicate with the employees from both working inside and outside the office. Notably, the number of employees who are using LINE as a communication tool was increasing. It is unavoidable if the customer wants to communication through LINE, but this was still not perfectly suitable. Although we wanted to prevent our employees from use LINE as a business communication tool, we had no other option to replace it.
What was the decisive reason that drove you to turn to LINE WORKS?
Mr. Yamamoto :
We compared various communication tools to find the most suitable option. But, with the purpose of regulating the contacts held between the salesperson and the customers through LINE, we paid attention to LINE WORKS. For other applications, we had to install a certain program in order to communicate with the customers. However, LINE is already well being used by the people, including our customers. The most decisive factor for LINE WORKS introduction was that it is easily connected with LINE.
Also, LINE WORKS is cost-effective, when compared with other tools. We wanted all the employees to use LINE WORKS, instead of the current groupware that only certain portion of employees are using.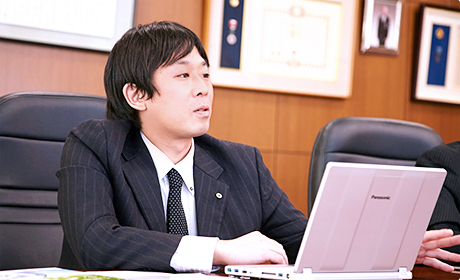 Mr. Ishizawa :
We were thankful about that there is no need for manual or education needed for LINE WORKS introduction. Because most of the people were already using LINE, we believed that the employees would soon be able to get used to LINE WORKS. We were not sure about the other tools since they had different user interface to LINE.
Mr. Yamamoto :
In 2017, we started a project to reform our working style, and 10 participants from the project started using trial version of LINE WORKS. And, soon we received positive feedbacks from the participants such as, 'Response time gets faster', 'I can definitely contact everyone inside the company', 'Read notification feature is comfortable'. It took less than a month to actually introduce LINE WORKS to our company.
Tell us the specific use cases for LINE WORKS
Mr. Yamamoto :
Employees from the Administration department and salesperson are using the company provided tablets and smartphones, and the other employees are using LINE WORKS through their PC. We found most of our employees decided to 'use LINE WORKS for every single contact made for business purpose', and actively use the tool.
Especially, LINE WORKS is gaining a good reputation as it enabled smooth and comfortable communication between employees who are working inside and outside the office. Either when salesperson, who is working away from the office, needs to check the stocks of certain goods, or when desk worker has to check the price of the goods, it is very conveniently communicated through the tool. We are also using when reporting our supervisor about the agenda and its progress made to it.
Mr. Oshio :
I am currently in charge of recruiting at the Human Resources Department. The feature I found the most comfortable is survey feature. We survey all the employees about the current policies related human resource and employee welfares. The response rate of the LINE WORKS survey is 85%, and the response doubled the speed than paper survey, which is an incredible change. It is much easier to aggregate the result since we can download the result in CSV format. And, the result which provided with graph format is also helpful.
We are providing LINE WORKS accounts to prospective employees and use the tool as a communication channel between them and the recruiting team. For those prospective employees, we are using 'Disable Search on the Group Contacts' to prevent the contacts information other than oneself from revelation. We used SNS tool for prospective employee communication in the past. However, we did not use the tool as much as we expected since it was difficult to use. LINE WORKS, a similar tool that of LINE, was already familiar to the LINE WORKS interface. Due to this, many of the prospective employees are actively using the tool. The existing tool had a problem that we could not communicate continuously with the tool. We first logged in to the tool when first introduced, but gradually became not to log in. After using LINE WORKS, however, the rate of the employees logging into the tool did has not decreased much and therefore, vigorous communication has been continued for a long time. We also received positive feedbacks from prospective employees such as 'it is easy to use'.
We are currently using Board message feature when recruiting manager is communicating with prospective employees. We are also using the feature to check the attendance for nomination ceremony as well as collect opinion from the prospective employees before start their work at the company. We chose theme for each week such as 'The book you like' or 'Recommending place travel after graduation', and we encourage prospective employees to write their ideas and opinion freely on the board.
What we like the most is that now we have gained a place to communicate with the prospective employees since they are located nationwide. We also feel that prospective employees have reduced their feelings of worrisome before entering the company, as they can freely ask questions to the company. We believe that this will make a great contribution to the improvement of royalties from the prospective employees as well as prevention of the cancellation of their application.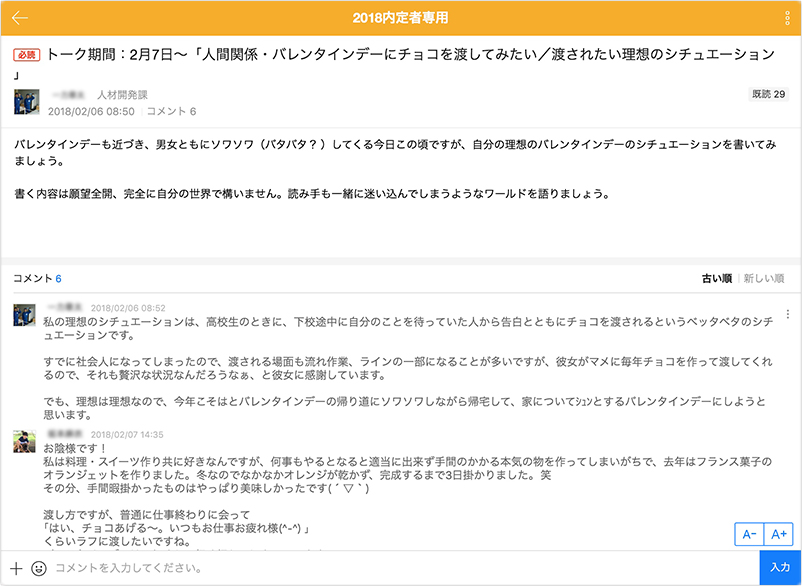 What are the effects after the introduction of LINE WORKS?
Mr. Yamamoto :
Employees from administration department to part-time workers, we are able to communicate everyone working in the company without feeling difficulties to it. This definitely has broadened our communication. One of the great features of the LINE WORKS is that we can easily reach out to the people whom did not know their contact information. We are encouraging our employees to record their duties at the LINE WORKS profile. And when we have questions like 'Who is in charge of this agenda?', we can easily check the profiles of the employees and reach out the right person.
We can work time effectively as we reduced unnecessary time we spent in the past, such as waiting for omitted emails to be checked or waiting for a call to be connected. We believe that overtime working at night time will soon be eliminated. By sending photos about the question we want to ask, it is now possible to share thoughts and opinion in depth.
Mr. Oshio :
As one of the employees from Human Resource department, dramatic increase in survey response rate and active communication with prospective employees are the two key accomplishments. It is cost-effective to use LINE WORKS because we did not have make individual tool for each agenda. Also, we curtailed expenditures by changing the tool from the SNS tool that we previously used to LINE WORKS.
Mr. Ishizawa :
We would like to implement auto-answering chatting bot based on AI near in the future using LINE WORKS. Setting aside from the working style that we have continued for decades using phone calls and fax, we expect that the introduction of innovative tool called LINE WORKS would bring us big impacts to our company.
※ All details, affiliations, and positions specified were gathered at the time of interview.