Intermestic Corp. operates an eyewear brand called 'Zoff' and have about 180 stores nationwide in Japan. Recently, the company has been actively extending their business abroad toward Asia region like China and so on. We asked Ichinose Mitsuhiro, General manager at IT strategy promotion department, to give speech about 'Reformation of working style' using LINE WORKS at the 4th Work Style Revolution Expo(Held at July, 2017)
Eyewear brand 'Zoff'
Based on the management philosophy 'Serve our customers with care and contribute to our society through glasses', the company is aim to provide quality service as well as customer service by taking care of the entire production process, from design to manufacture. The company operates about 180 stores nationwide in Japan with 1,800 employees. The company has also international branches in Singapore and China. Centered in Shanghai, the company operates about 20 stores in China, and we opened our first Singapore store on April, 2017. We are planning to open a new branch in Hong Kong as well.
Ever since its establishment, the company has been providing quality eyewear products with reasonable price for 15 years by pursuing manufacture retail SPA model, which the company covers the entire production process including design and manufacture. Based on our action guide and keywords which are, Japan Quality: Monozukuri (Craftsmanship), Always Fresh: Launch 2 new products every month, and Fast Service: Provide the service within 30 minutes, we are providing the service with 'reasonable price'.
3 problems that eyewear brand 'Zoff' was experiencing with regards to 'work style'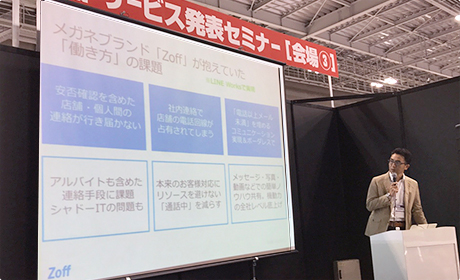 There were 3 missions which all the employees at out company were experiencing with regards to their working style. First problem was that communication, including emergency contacts, between headquarters, stores, and individuals did not work well. It was challenging for all of us to contact 1,800 employees including part-time job workers, share information on customer service, and communicate one another. Until the introduction of LINE WORKS, there was also a problem of shadow IT since employees sometimes used their personal LINE accounts for communication.
Second problem was that store telephone line was used often for in-company communication. Since each store has only one telephone line, if it was used as in-company communication, no other phone call can be received It is not a good idea to miss the phone calls from the customers due to the in-company communication. For this reason, we decided that it would be better to have a separate channel for communication with headquarters and leave the phone available for any possible incoming calls.
Last problem which we encountered was that we were lacking of communication tool that is 'more than phone, but less than email'. In other words, we did not have enough means to communicate on the issue that is neither urgent nor sensitive. From globalization perspective, we have been thinking about how to realize such communication. For example, we even need a strategy when displaying glasses. If we want to check whether the display has been standardized for entire stores or not, we can simply take photos showing the condition of the display and share them through LINE WORKS.
I will tell you about the decisive factor which made us to turn to LINE WORKS under such circumstances.
Kumamoto earthquake accelerated the maintenance of means for emergency communication.
One of the momentums was the Kumamoto earthquake occurred in April, 2016. After that, building up the emergency contacts including part-time staffs became the important task to solve. And, urgent review was carried out to ensure the communication between individuals. During the review, we have verified various aspects on the communication tools including the third-party products, and ultimately decided to choose LINE WORKS.
First reason why we chose LINE WORKS is that chatting and calling features are integrated into one service and the tool is smartphone-based. It may sound obvious, but in fact, there were not many tools that could be used smoothly on both PC and smartphone. Second reason is that although it is part which almost every enterprise-targeted tools have, LINE WORKS enables us to both manage and take bulk actions on all the accounts at once, and also provides smartphone notification alert. There were not many tools which push notifications on a number of alerts received. Last reason is that 'because it is LINE', and therefore, we can easily use the tool. This was the part that we all found very 'persuasive' about the introduction.
Take Kumamoto earthquake as an opportunity, we have decided to strengthen the foundation of store-related communication in order to solve the problems on the way of making emergency contacts as well as working style. Since we did not have an official office communication tool, we were at the state of shadow IT. Employees have used their personal LINE accounts to contact their colleagues. We also had a privacy problems such as employees refusing to open up their personal LINE account ID as well as the phone numbers. There was no way to contact one another if it is hard to ask for their contact information or expect to share it voluntarily. Even with trivial contacts, when thinking about all the 180 stores, the waste of communication soon becomes a serious loss for us. One of the reasons for our decision was to prevent our company from such loss by introducing the official communication tool.
'Zero inquiry' was received from 1,800 employees including part-time staffs during the introduction
We provided LINE WORKS accounts to every employees, including staffs from headquarters and store as well. Actually, we have more than 1,800 LINE WORKS accounts since we have given the accounts to the international store staffs as well as part-time staffs. Because our biggest goal for LINE WORKS introduction is to have emergency contact for employee safety confirmation, store staffs are using LINE WORKS with their own device (BYOD). Also, we have given the LINE WORKS accounts to those company-provided smartphones located in each store.
After trying out free trial version for about a month, we have decided to introduce LINE WORKS to entire company. Furthermore, he have completed introduction of LINE WORKS to every store and the employees located in Japan within 3 months after. As we expected, LINE WORKS was well introduced and used by our employees. We neither received any inquiry from our employees nor prepared for a manual or presentation during the introduction since usage of LINE WORKS is similar to that of LINE. Other tools would not have been so easy like this. Once again, we felt that such part was good enough to choose LINE WORKS.
It does not take a long time to get used to it with its simplicity. Sharing know-hows can be casually done!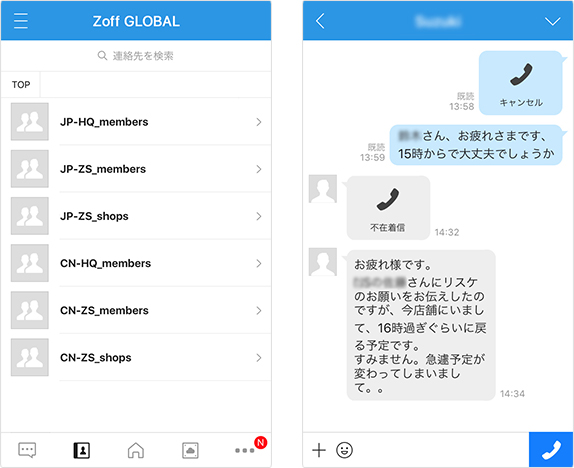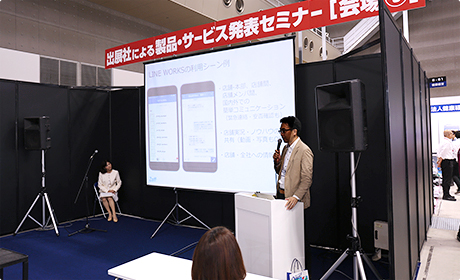 Photo on a left side is a specific use case of LINE WORKS. Since contacts are displayed according to organization of the group, if admin from the headquarters manages the organization properly, LINE WORKS automatically reflects it. It is convenient to make group chatting room based on the groups made on either department or team basis. Even when the new employee joins our company, it is easy to find out the department assigned. Also, there is no need to hesitatingly ask for the contact information. With the smartphone notification, we can quickly notified and understand about the situation.
Photo on the right side is the example of LINE WORKS chatting. Almost same as LINE. While two participants were communicating through chatting, one participant called the other for urgent issue. The urgent issues was actually more like casual. Sometimes such communication, which seems to be so much obvious at the first glance, cannot be realized depending on the tool. Based its simplicity as well as short period of time required to get accustomed to the tool, the information sharing inside the store can now be smoothly made through LINE WORKS. For example, store staffs take photos of store displays and simply share the photos to the chatting room. Not having such situation like 'Not knowing about the LINE WORKS usage' is biggest contribution made to our company.
Expecting for a combination with new technologies like AI near in the future
We think that LINE WORKS has a high possibility of making further development near in the future since it is a high quality communication tool for enterprises. If LINE WORKS can be easily connected to other tools like Active Directory, the admin for the each enterprise would feel less burdened. Moreover, what we expect from LINE WORKS is the possibility of connecting the original in-company systems with the incorporation of the new technologies, while keeping the user interface and functions those are similar to LINE. Lastly, it would be better if LINE WORKS provides international level of supports and maintenance as global market strategy to reach out for the international market.
※ All details, affiliations, and positions specified were gathered at the time of interview.