Based in Osaka, Kobe, and Himeji, Hamanoya Co., Ltd. is a company specializing in manufacturing and delivery of company meals. The company effectively utilizes LINE WORKS for communication between headquarters and personnel in charge of deliveries and says that there have been significant changes in their everyday work after switching from analog communication using mobile phones to LINE WORKS. Mr. Iwasaki, in charge of general affairs and deliveries, and Mr. Sasaki, responsible for deliveries, tell their stories.
Please tell us the details of the business and your roles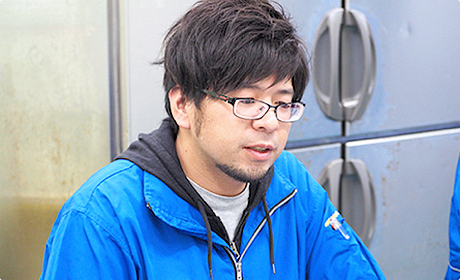 Mr. Iwasaki :
Since its foundation in 2008, our company has been manufacturing and delivering company meals in the form of lunch boxes. From areas nearby, to far away, we deliver different meals every day that are focused on variety and nutritional balance to customers throughout a broad region. 75 of our delivery personnel deliver about 18,000 meals each day to more than 2,000 customers. As the one in charge of general affairs and deliveries, I communicate with delivery personnel daily to manage accurate delivery of meals to our customers.
Mr. Sasaki :
I currently work in the delivery division, in charge of deliveries to customers. It has been 3 years since I began working at the company.
What were some of the issues prior to using LINE WORKS?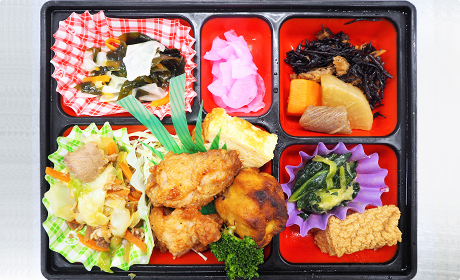 Mr. Iwasaki :
There had been only 1 computer in our company and a few people used it. It was an analog environment in which most of the work was performed on paper, and through phone calls and FAX. For communication, not only between headquarters and delivery personnel, but also among the delivery personnel, phone calls and short text messages were used through basic mobile phones provided by the company.
Every morning, calls or faxes come to headquarters from customers regarding meal orders of the day. For most cases, however, couriers have already started their delivery routes at the time orders are received. So we have been using the method in which a headquarters employee manually writes the details of an order on an order sheet and reads it to a courier via phone. The couriers then deliver the orders after hearing the number of orders for the day.
When conducting work via phone, deliveries are made by mistake from time to time. Also, since couriers leave after the number of orders is finalized, it is often discovered during delivery that the number of meals is insufficient. In such cases, the courier and the general manager individually communicate by phone to adjust the number. I currently manage 35 couriers and often receive too many calls from them, which causes other calls to be missed and on-time responses to be delayed. From 10 to 10:30 AM, in particular, all couriers make interim reports so the phone line during this period is nearly paralyzed. Since the meals must be delivered before lunchtime, the percentage of morning work is overwhelmingly great. We receive about 200 phone calls in the morning alone so we experienced limitations with communication by phone.
One courier is responsible for deliveries to 20 to 30 companies, and there is even one courier who is responsible for 70 companies. We think that couriers have also felt stress when calls do not go through or it takes a while to contact.
Please tell us how you have introduced LINE WORKS
Mr. Iwasaki :
When we were experiencing the limitations of phone communication, we reviewed changing the mobile phones provided by the company to smartphones. We thought about taking a picture of the order sheet received by headquarters and sharing the image with couriers, instead of verbal transfer via phone. This was when we were introduced to LINE WORKS from another company that we know.
First of all, we thought that we would become familiar with it quickly, as its interface is similar to that of LINE. We also had expectations that, if information regarding insufficient or excess meals can be shared among couriers in LINE WORKS Group Chat, they may voluntarily adjust and transfer quantities among themselves without myself working as a mediator.
When we used the trial version, we designated a few couriers in their 20s and 30s, along with some couriers in their 50s who do not normally use LINE, to verify if they would be able to use the app well and what inconveniences there might be prior to a company-wide introduction. Since we also thought of using LINE WORKS on their own smartphones, we wanted to check if they might feel any resistance to using personal smartphones for work. The important point to determine was if communication that had been mostly call-based can now be executed smoothly by messages.
The results showed favorable feedback from most of the employees regarding LINE WORKS. The younger generation is already familiar with LINE, so it seems that they do not see sending messages via LINE WORKS as a hassle. Couriers in their 50s also had no problem using the app. Based on the outcome, we decided to introduce it about one month after we began the review.
Please tell us about your considerations prior to introduction
Mr. Iwasaki :
Currently, 75 of our couriers and 45 office and manufacturing employees utilize LINE WORKS. Before introduction of LINE WORKS, the company proposed two options: using smartphones provided by the company or BYOD(*). The former option was proposed as we thought there may be many employees who would resist using their own smartphones for work. Surprisingly, however, about 70% of the them chose BYOD, though differences exist among regions and age groups of the employees. For those who chose the BYOD option, we offered subsidies in the form of communications expenses so that employees would not face any disadvantages in using personal items for work purposes.
* BYOD (Bring Your Own Device): Utilizing employees' own personal devices for work
Please tell us detailed cases of using LINE WORKS
Mr. Iwasaki :
After introducing LINE WORKS, employees at headquarters take photos of order sheets with smartphones and share the images with couriers using the LINE WORKS chat feature. Efforts and time are both saved compared to verbally delivering the details of orders, and accuracy has also been significantly improved. Couriers and the general manager in charge of a particular region have group chatrooms to make real-time reports on insufficient and/or excess meals. If there is an area with an inadequate number of meals, another courier assists immediately by delivering the amount of shortage.
Even if an accident or another issue occurs, information can be quickly shared through photos, and the location data can be shared in a chatroom to inform the current location to other couriers in the same region. Precautions in deliveries, notification of driving classes, and other news and notices to be shared with all of the couriers can be posted on Home(message board). The app is also used conveniently to communicate with manufacturing employees to, for example, urgently change the quantity to be manufactured.
Mr. Sasaki :
Ever since we began sharing order sheets using images, the mistakes that often occurred when communicating and delivering order details by phone disappeared to prevent any errors in delivery. For urgent cases, the Call feature of LINE WORKS is also being utilized.
Interim reports at 10 AM every day are conducted in a group chatroom of 3 couriers responsible for the same region and Mr. Iwasaki, the manager-in-charge. Even when we get a report that there is a deficiency of meals, couriers can now immediately respond among themselves. Compared to the analog method in the past, LINE WORKS is a remarkably innovative tool, which has dramatically transformed the efficiency of our work.
What changes have you seen after introducing LINE WORKS?
Mr. Iwasaki :
In the past, there used to be 200 calls made every day in the morning alone, but after introducing LINE WORKS, the figure significantly dropped to below 30. Thus, the time we had been spending on the phone decreased drastically and delivery mistakes that occurred from verbal exchange were also reduced, which we think helps contribute to improvement in customer satisfaction.
Once someone types via LINE WORKS regarding "delivery delays" or "insufficient quantity", other couriers can now provide assistance. As situations are shared among relevant people in real-time, couriers can act quickly on their own, without waiting for instructions given by the managers, which has reduced the amount of burdens the headquarters had previously shouldered. If an issue is handled among the couriers, the headquarters may still check the background and outcome through LINE WORKS, so we can all feel more relieved about it.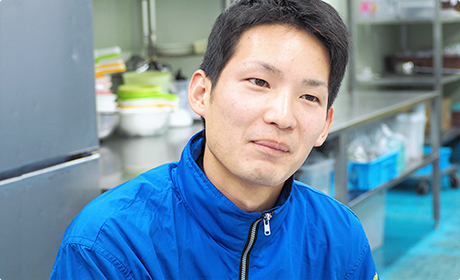 Mr. Sasaki :
Because the number of calls I have had to make on the mobile phone has decreased significantly, I can now concentrate on driving and delivering meals in a safer manner. Introduction of LINE WORKS has allowed others to immediately provide assistance if an issue has occurred for a courier and, thus, a strong sense of cooperation has formed among the couriers. I think it has enabled us to take actions on our own instead of waiting for orders from headquarters. I believe it is a remarkably great change that not only our work has become more efficient, but also teamwork has been further strengthened.
※ The details, affiliations and positions specified is the information gathered at the time of reporting.