Daito Kentaku Partners Corp., a management and operation agency specialist, offers safety and contentment to owners and tenants. The company use LINE WORKS as a communication support tool to closely communicate with each participant. This time, we interviewed Mr. Akimoto, Mr. Funamoto, Mr. Ushio, and Mr. Kakinuma about process of how LINE WORKS has been introduced in field and benefits come from it.
Tell us about your company and individual roles
Mr. Akimoto:
Our parent company, Daito Kentaku Corp., is offering owners to build a rental apartment using rental consignment management system. Meanwhile, our company is responsible for the overall management and operation of the rental building in exchange for receiving rent in lump-sum of rental buildings from the owners. The buildings in charge of management and operations are 160,000 blocks total, which is more than 1 million rooms.
What were the issues before the introduction of LINE WORKS?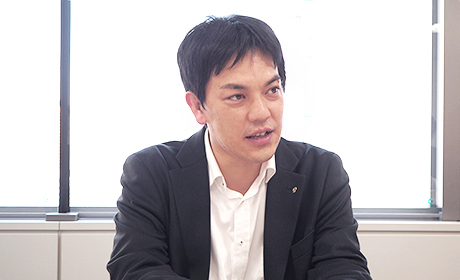 Mr. Akimoto:
Our company has 179 offices nationwide. Management, office, and rental marketing employees are working everyday in each office.
Characteristic of our company is that we contact a lot not only within interoffice but also with our owners, residents and other enterprises. Especially, the number of affiliated companies such as electric, interior design, construction, etc. are more than 10,000. Therefore, it is important that employees should be able to exchange multiple opinions with multiple companies simultaneously.
That is, it is an industry in which established based on communication. However, the biggest challenge was that phone and e-mail were very complex and inconvenient when employees contact with other related people. E-mail that can only be seen in office computer was rarely used and verbal contact with company's mobile phone became center of communication.
For example, if we need to repair a building that our company manages, our employee first visits the site and see where it needs to be repaired. Then our employee has to deliver message about repairs to affiliated construction company. However, they can't get the exact information by talking on the phone. As a result, construction company employee has to visit the site several times to make an estimate for repair while contacting with our employee. And this took certain amount of time. We also had a difficulty on time managing about the repair schedule by phone. Under these circumstances, we feel that communication tools need to be re-examined in order to increase work efficiency.
What was the decisive reason that drove you to turn to LINE WORKS?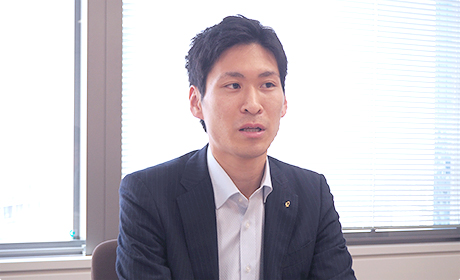 Mr. Funamoto:
First, we reviewed based on opinion of the field employee and suggested the necessity to the superior office for approval. We also reviewed other tools, but other tools besides LINE WORKS required license fee or needed extra installation process in order to communicate with clients. The most critical reason for adopting LINE WORKS was that individuals are able to contact on his or her usual LINE account. Furthermore, we sometimes deal with personal information and LINE WORKS provides excellent security system. This is also crucial reason why we choose LINE WORKS.
How was the introduction of LINE WORKS?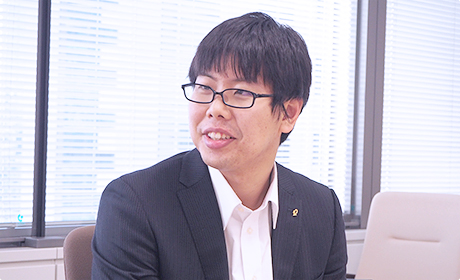 Mr. Kakinuma:
Business Planning and Strategy Office manages introduction of LINE WORKS. However, I, General Affairs Dept., am currently in charge of LINE WORKS. LINE WORKS is easier to understand than other tool's admin screen, which used in other task. Also it can batch processing the data you want with CSV so it lessens burden on management. When other tools were introduced, employees have inquiry regarding operation method. However, no inquiry was made about LINE WORKS even though we only provided simple manual with log-in process at the earlier stage of introduction.
Tell us the specific use cases for LINE WORKS
Mr. Akimoto:
Currently, 2,900 full-time employees are using LINE WORKS with company provided smartphones. Specifically, management and rental marketing employees are using it. Also starting from last quarter, as part of work method reformation, our company changed the operating system from management employee working on individual to a "team system" in which 3 to 4 people are in charge of one specific zone. Because communication within the team is important in 'team system', LINE WORKS is very convenient because it allows team members to actively share information and make quick decisions and responses. LINE WORKS's unique attraction is that it easily allows to exchange information with remote sales offices.
Mr. Ushio:
Currently, each sales office creates group chatting room and business contacts are mostly occurred in LINE WORKS chatting room. During the company-wide campaign period, we immediately share contract with LINE WORKS in order to raise morale of entire group. In some cases, in order to raise morale of the field, if someone signs up a contract, the manager of sales office delivers that message to LINE WORKS chatting room. I think fostering motivation field-wide is really important and LINE WORKS makes huge contributions.
What are the effects after the introduction of LINE WORKS?
Mr. Akimoto:
Field employees praise on LINE WORKS because 'LINE WORKS made smooth link between our business partners, since we can take photos right out of the field.' When requesting repair, by using LINE WORKS, it is clearer to send a picture of the area to be repaired than to deliver in words. For example, if you want to exchange a ventilator installed in your room, verbal delivery of color or size may not match with what you prepared for. However, sending a picture of ventilator using ruler can deliver clear depiction of color or size of ventilator.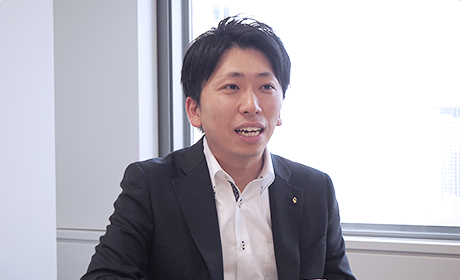 Mr. Ushio:
In the past, strong winds in one area have caused problems to the buildings we manage, such as falling roofs and fences. We could prevent further incident from happening by immediately sending photos of building condition to the repair company and receiving emergency treatment. I think that the biggest advantage is that we can reduce the unnecessary hassles of having to go through two or three times just by exchanging photos. Even if the number of visits to the site is reduced once, it is still a very large workload savings for the company if we think about the changes made company-wide.
Mr. Funamoto:
I think that the time taken for instructing and reporting has shortened. Like we can report the situation and send instruction even in the middle of experiencing natural disaster, the information sharing which aimed at many employees is faster than ever. Originally, this tool was introduced for effective communication with the partner companies outside. But, going beyond our expectation, it is well utilized within the office and therefore, made our work much convenient. There were opinions from the on-site employees, mentioning that group chatting room with LINE has enabled them to have communication much lively.
Mr. Akimoto:
Changed from phone-oriented to chatting-oriented style, we can now share and check information regardless of time. And we think that our working style has changed effectively due to this. Generally, our employees and business partners can meet each other once a month. For this, we are planning to use LINE WORKS as a tool which supports our communication.
How do you want to utilize LINE WORKS in the future?
Mr. Akimoto:
It is affiliation of LINE WORKS and the customer management tool. Today, office employees receive phone calls from the customers and submit an itinerary with the building information on the system. Then, the system automatically sends emails to one of the building managers. Using LINE WORKS, however, we are planning to send notifications to all the building managers in order to shorten the response time and ultimately, foster the customer satisfaction rate.
※ All details, affiliations, and positions specified were gathered at the time of interview.