Daiichi Printing Co, Ltd., a company headquartered in Niigata and with the 73 years of history, is providing 'high class' service which goes beyond high quality service by developing multimedia that meets the variety of demands required from highly-information society. We interviewed Mr. Yanagisawa, who supports LINE WORKS integration for Headquarters and Tokyo Headquarters, about overall LINE WORKS introduction process and its following effects. We further heard stories from Ms. Dokoi, who said to feel the convenience of exchanging daily communication using LINE WORKS.
Tell us about your company and individual roles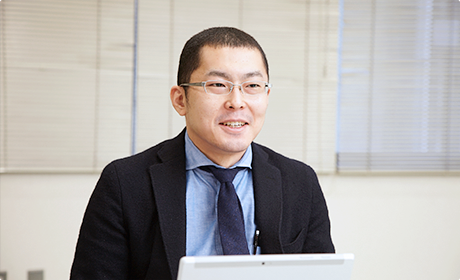 Mr. Yanagisawa :
The business that our company operates is the public information industry that carries out printed materials or Web-based planning, production, logistics, and promotion according to the customer's request. We have total of 280 employees currently working together. About half of whom are front-line employees, including sales and planning, have about 20 employees from general affairs, about 20 employees from manufacturing management, and about 100 factory operators.Myself as a representative director of Tokyo headquarters, I am responsible for maintenance of company equipment, and for the review and make decision of the newly introduced system.
Ms. Dokoi :
I am a member of planning department, and in charge of planning to make the customer request in a visible form. Along with this, making correspondence to the phone calls while salesperson is out of office is another important task of our department staffs.
How did you share information before LINE WORKS integration?
Mr. Yanagisawa :
Previously, all of our employees were working under 2G phone-oriented circumstance. That is, the company provided devices so called '2G phone' to the all the staffs at the sales department, to some staffs from manufacturing department, and asked them to share information. Other than that, we have been basically using PC for general office communication.
In terms of system environment, we have a groupware which has been using to share office board or data. For office communication, we are using groupware email. Specifically, we make an extra mail server for independent domain only for our company, and use it when communicating with our clients.
We are still using fax when working. There are times when our clients send document through FAX. Also, FAX once was the main communication between manufacturing and sales department. Because fax-oriented communication leaves record, our old way of communication became a habit.
What were the issues under such working environment?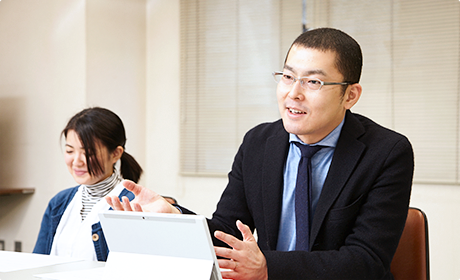 Mr. Yanagisawa :
Our old groupware could only be used under restricted network condition. Also, we could only operate the groupware with Windows. For this reason, our designers, who are most likely to use Mac, could not use the groupware. Another restriction we faced was that because we could not check both groupware mails and computer mails when using 2G phone or smartphones, it was inevitable to use extra cell phone-operated mail in order to contact the salesperson who is out of office.
Since last year, the company started to rent our tablets to the salesperson. This has enabled them to check the groupware and computer emails even outside the office. But, there are still a lot of critical issues remained such as running slowdowns since tablet was not perfectly fit tool to both groupware and PC email check-up. In order to improve efficiency, we wanted to integrate the four types of communication tool: groupware, computer mail, cell phone mail, and fax.
Even in the perspective of corporate culture, there was also a decentralization of information. This may be the idea of a printing company, but printing industry have the notion that "printing=proof". When an announcement was received from our general affairs department, we printed out the notice and share with all the other employees. This means that there was always a notice board passing around. We often printed out the emails received, and directly write reply and send it through fax. Under such circumstance, we were always thinking about the solution to such issues.
When thinking about way of working, we wanted to integrate the tool to solve the problems which this industry has; a culture of night working. Email communication takes longer time for writing, and eventually let all the collaborators to call each other to find out whether the email is successfully delivered and checked by the targeted recipient. If the phone call is successfully connected, we feel that the working goes smoothly. If not connected, however, the caller have to wait for the communication opponent to call back, while leaving the work unfinished. This was so much waste of time. To solve this, One of the tasks was to reduce the time wasted by allowing people to work in extra hours, such as traveling time, and to create an environment where they could focus on the tasks at their hand.
What was the decisive reason that drove you to turn to LINE WORKS?
Mr. Yanagisawa :
Because our company has a business of making homepages and videos, people who are not familiar with IT cannot work together. Even when dealing with our clients, we had this worrisome about the possibility of whether we can 'give suggestion that impress the clients' or not, without using the most advanced and the latest tool. We further thought we should introduce state-of-the-art systems even to reform the old system and consciousness.
What we considered the most when integrating a new tool was the 'possibility of a successful settlement'. We have been introducing various services to develop our working environment. However, many of those services were not as much as used than we first expected. So, this time, what we considered the most was that whether the tool is up-to-date, easily operated and used system, and ultimately, can this tool 'successfully settle down' to our office communication culture. A few departments were communicating with the free chatting tool. But, not utilizing the enterprise version of the chatting tool sound unstable and dangerous in terms of security. By adopting LINE-like, and therefore friendly LINE WORKS to our office, we determined that we could 'eradicate the risk of Shadow IT'.
Also, LINE WORKS provides essential collaboration features such as Home board, Calendar, and Cloud. With all this, we thought that once LINE WORKS is introduced, we could realize the 'Renewal of our groupware', and share the large-sized data, which needed for printing works, with no extra effort.
Like this, it was LINE WORKS, a complete collaboration ecosystem, which offers all the necessary features.
What are the effects after LINE WORKS introduction regarding the way of working or office communication?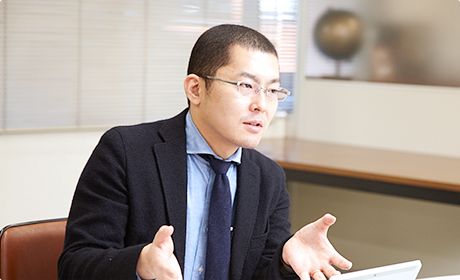 Mr. Yanagisawa :
Our company considers information sharing with our bosses very important. Staffs from management department are fully responsible for this process. If we share information through phone calls, it is impossible for us to keep track of issues in real-time, and have to wait for someone from the management department for the report. In this sense, LINE WORKS chatting is very convenient. Taking LINE WORKS integration as an opportunity, we changed our office communication from office phone to smartphone.
All the employees including the salesperson who are working outside the company for the most of time, can now easily join the chatting rooms collaborate together with the office staffs. Boss can also create a new group and communicate with multiple employees at the same time, meaning that LINE WORKS enables real-time collaboration. Of course, information sharing has overwhelmingly improved.
I often mention to my colleagues that face-to-face meeting is only required for 'consulting'. On the other hand, occasions like 'reporting' or 'contacting', do not necessarily require face-to-face meeting. Just by minimizing the time for the face-to-face meeting, for those staffs who work at the Tokyo office can now be able to deal with most of their works. By putting extra efforts company-wide, such as implementing LINE WORKS, reducing the frequency of face-to-face meeting, and not using the paper notes when meeting, the company could cut employees night shift time by 30 to 40 hours monthly.
LINE WORKS is much convenient than fax when quickly checking the printouts. What we do with the LINE WORKS is to simply take photos of the part that we marked in red, and send those photos. Unlike fax, which only provides the document in black color, it becomes much more convenient to understand the color documents. We further do not have to worry about missing or broken words. Most of the outside office workers are also feeling comfortableness to this.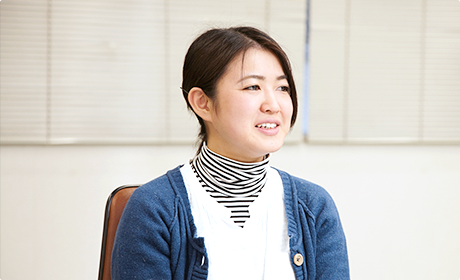 Ms. Dokoi:
I am utilizing PC version of LINE WORKS as I am spending most of my working hours in office. PC version of LINE WORKS is also well-made and therefore, easy to use. Before LINE WORKS integration, we had to wait for the salesperson in order to check either customer inquiries received or the art works we delivered. Instead of waiting the salesperson to come back to office, we can ask them questions directly using LINE WORKS.
And, we found it very convenient. With the Message feature along with 'Read' notification, both enable us to immediately communicate about the issues with the salesperson. This way, we do not have to wait for the salesperson who is returning late to the office.
So far, when we receive phone call from our clients about finding the salesperson, we had to use phone-operated mails to send the message like 'Please call OO' to the salesperson. And, this process was cumbersome to everybody with no doubt. Since phone-operated mails could not be checked whether the targeted receiver actually received the mail, we eventually had to call back the person to double check whether they read the mail or not. However, there were times when the salesperson could not answer the phone calls and vice versa. Since LINE WORKS provides the 'Read' notification, we can assure that the message is successfully delivered to the salesperson. That is, LINE WORKS definitely offers the great working environment, in which we all can concentrate to our own works.
With LINE WORKS, we can deliver the message to a large number of employees regardless of positions and departments they belong. Specifically, when the problem occurs, we can send essential information through LINE WORKS to all the employees, who are related to the problem, from all different departments including sales and trading. Before LINE WORKS introduction, we had to contact each individual from different department to either check or report the problem. With LINE WORKS group chatting feature, we can collaboratively share and solve the issue together with the people related.
Unlike phone calls, the chatting leaves a conversation history, which is very convenient for further process. Because someone in the chat room replies to the issues at least, the overall correspondence time has reduced dramatically, and this also helps us improve our service.
Mr. Yanagisawa :
We can say that LINE WORKS is more compulsory with the 'Read' notification than any other collaboration tool. There is growing moods and perception that more and more people think that received messages should not be remain unread. Of course, sending replies to the messages are getting easier day by day, and this definitely helps us response time and rate to the messages as well as the issues.
Ms. Dokoi :
Unlike 'Reference' feature in the email, we all feel like we are key members to the issue.
How do you want to utilize LINE WORKS in the future?
Mr. Yanagisawa :
We are expecting LINE WORKS to be well utilized when sending notices, which General Affairs Department staffs send to each department, although we are not fully utilizing Home feature.
We would like to open categories for each department on Home feature. Currently, we are leaving various information from each departments on either LINE WORKS chatting room or note. We are thinking about leaving those information on the Home Board as well. For those information which we want to publish for longer period of time, we think Home feature is much suitable to upload. This way, there will be no worry for the information to be accidentally ignored by others.
We just started a new LINE WORKS chatting room on printing process control, and we are eager to utilize further at the construction site.
※ All details, affiliations, and positions specified were gathered at the time of interview.